Everything tagged
Latest from The Spokesman-Review
I'll start with this.
www.closetfatchick.com
Bread and rolls are the No. 1 source of salt in the American diet, accounting for more than twice as much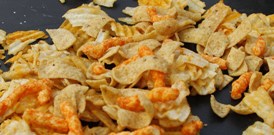 sodium as salty junk food like potato chips. That surprising finding comes in a government report released Tuesday that includes a list of the top 10 sources of sodium. Salty snacks actually came in at the bottom of the list compiled by the Centers for Disease Control and Prevention. "Potato chips, pretzels, and popcorn — which we think of as the saltiest foods in our diet — are only No. 10," said CDC Director Dr. Thomas Frieden. Breads and rolls aren't really saltier than many of the other foods, but people tend to eat a lot of them, said Mary Cogswell, a CDC senior scientist who co-authored the report/Associated Press. More here. (AP photo: A mixture of salty snacks and chips is shown left on a table in Pittsburgh's Market Square on Tuesday)
Question: Do you eat much bread?
Jon Coggin, 10, sells chips for $1 to raise money for Carissa Outen on May 19, 2010, at the Spokane Community College Spring Fling Car Show.
Feeding toddlers a steady diet of processed foods could lead to more than just obesity — it could lower their IQs, according to a new study.
Researchers at England's University of Bristol found that a child's eating habits at age 3 may influence his cognitive abilities at age 8. Toddler diets high in fat and sugar were associated with lower IQ scores, while healthier eating was tied to higher scores.
The report, which appears in the Journal of Epidemiology and Community Health, is being billed as "the first study to suggest a direct link between the diet of young children and their brainpower" years later.
Here, a brief guide to the findings.
Do we really need studies like this to tell us feeding our kids a steady diet of junk isn't healthy? Isn't it just common sense?