Everything tagged
Latest from The Spokesman-Review
Voters in Ketchum and Hailey have approved a local-option tax on lodging and rental cars to subsidize commercial airline service, with the projected $2 million a year proceeds to help entice airlines to serve the Wood River Valley, either through subsidies or advertising support. The Idaho Mountain Express reports that turnout was heavy, with mayor and council races also being decided; voters in both Ketchum and Hailey backed the air service tax measure by close to a 2-1 margin. It needed 60 percent to pass; it got 66 percent in Hailey and 64 percent in Ketchum. Boise State Public Radio has more here.
Here's a news item from the Associated Press: KETCHUM, Idaho (AP) — Ketchum officials have banned smoking in a long list of areas that include all city-owned facilities, parks, and indoor public places and places of employment, including hotel and motel rooms. The Idaho Mountain Express reports (http://bit.ly/XRichp) that city councilors passed the ordinance Monday that comes with a yearlong education campaign before enforcement begins. After that penalties start with a warning and rise to a $52 fine for a third violation. Employers in the resort area who are found to discriminate against employees making complaints concerning the ordinance face fines of $1,000 to $5,000.
You can read the Idaho Mountain Express' full report here from reporter Brennan Rego.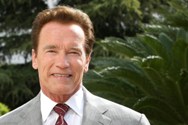 TMZ published a picture Wednesday showing former California Gov. Arnold Schwarzenegger pedaling in Ketchum, with a teasing caption: "Arnold Schwarzenegger took a much needed break from L.A. this morning — riding out the storm in quiet Ketchum, Idaho … on a bicycle." Schwarzenegger has long had a vacation home in Ketchum and often skied Baldy/Dan Popkey, Idaho Statesman. More here. (AP file photo)
Question: Do you vacation much in Sun Valley?