Everything tagged
Latest from The Spokesman-Review
The sun-dappled water glistened in the late morning light and so did the foreheads of the teens who planted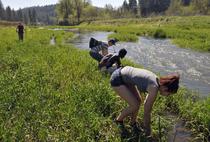 trees along Hangman Creek last week. While some kids learn about sustainability in air-conditioned classrooms, students from M.E.A.D. put classroom knowledge to practical use thanks to a partnership with the Lands Council and help from Spokane Teachers Credit Union. For every member who switches from paper statements to e-statements until June 30, STCU will donate money to plant one tree along Deep Creek, Coulee Creek or Hangman Creek/Cindy Hval, SR. More here. (Jesse Tinsley SR photo: From the foreground, Amanda Parker, Aleu Aleu and Isaiah Mitchell poke cuttings of willow branches into the muddy banks of Hangman Creek in Valleyford on May 7)
Question: Have you ever planted a tree? When? Where? Why?
OLYMPIA — Beavers making a nuisance of themselves in Western Washington could be relocated to Eastern Washington areas that need their help in damming streams, but the furry critters from Eastern Washington couldn't be shipped west under a bill approved Wednesday by the Senate.
Seems there's already too many of the tree-chomping mammals west of the Cascades.

The proposal, described by Sen. Kevin Ranker, D-Orcas Island, as a "cute, furry little bill," allows the Department of Fish and Wildlife to set up a system in which a landowner who wants to improve groundwater or downstream flows can request beavers being captured elsewhere and removed from land where they are creating a nuisance. It also provided several legislators some much-needed work on their joke delivery.
To read the rest of this item, or to comment, click here to go inside the blog.
ENVIRONMENT — A few tickets remain available for The Lands Council's 16th annual April Showers auction and banquet on April 16 at The DoubleTree Hotel in Spokane.
The event always features good food and wine along with live and silent auction items in a fundraiser to benefit the group's efforts to preserve, protect and revitalize Inland Northwest forests, water & wildlife.
Tickets: $60 per individual or $400 per table of eight.
Reservations: Amanda Swan, 209-2851.