Everything tagged
Latest from The Spokesman-Review
Skipper Lawrence Killingsworth of the sailboard Ta' Ata Ori, which is moored at Bayview, tells of a dramatic rescue of two other sailboaters on Lake Pend Oreille near Bayview Saturday. The information is posted on Herb Huseland's Bayviews:
As we headed back toward Bayview around noon, the wind picked up and slowly built to around 20 knots, from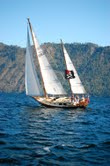 the south. I was at the helm, the rest of the crew tidying up the boat, making preparations to take the sails off and get TAO ready for the coming winter. I noticed a small sailboat, about 1/2 mile off our port beam that seemed to be in a bit of trouble. As I watched, the boat capsized and then "turtled." (Turned completely upside down, with the mast pointed toward China.) The crew of two was in the water. (Water temp about 60 degrees.) I immediately changed course and the TAO crew went into full "rescue mode." By the time we reached the turtled boat, we had the boarding ladder down, the dinghy ready, boat hooks, life jackets and horseshoe buoys in hand and towels and warm blankets waiting. More here.
Question: Have you ever been in need of rescue?