Everything tagged
Latest from The Spokesman-Review
Afghan Lieutenant Col. Hayatullah Afghanyar holds up his certification of appreciation during a graduation ceremony at a military training center in Kabul, Afghanistan, earlier today. U.S. Secretary of Defense Leon Panetta and other U.S. officials say the shooting spree should not derail the U.S. and NATO strategy of a gradual withdrawal of troops by the end of 2014. But it has further soured relations with war-weary Afghans, jeopardizing the U.S. strategy of working closely with Afghan forces so they can take over their country's security. (AP Photo/Musadeq Sadeq)
With the slaughter of women and children at the hands of a U.S. soldier, you can be sure more is to come. Is it worth it for either side? I cannot for the life of me find a rationale that is acceptable. The Afghans hate us. Their leaders play us like a fiddle. Our troops are killed by the very men they have trained. Billions of U.S. tax dollars have been squandered on who knows what. No one can account for it. With this latest incident, it's time to leave. If we don't the bloodshed is only going to get worse because they will use the tragedy as inspiration to kill even more of our soldiers/Dogwalk Musings. More here. And here.
Question: Is Afghanistan worth one more American life?
Defense Secretary Leon Panetta phoned Afghanistan President Hamid Karzai Thursday and promised full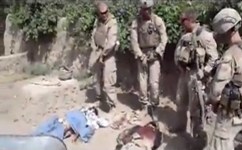 investigation of a video that purports to depict four U.S. Marines urinating on the corpses of Taliban fighters — a video both men condemned as deplorable. In a separate public statement, Panetta said such behavior is "entirely inappropriate for members of the United States military" and that those responsible will be held accountable. The video, posted on the Internet, shows men in Marine combat gear standing in a semi-circle over three bodies. It's not clear whether the dead were Taliban or civilians or someone else. The title on the posting called them Taliban insurgents and said the men were from Camp Lejeune, N.C., but officials would not immediately confirm it/Washington Post. More here. (AP photo)
Thoughts?
After nearly nine years, 4,500 American dead, 32,000 wounded and more than $800 billion, U.S. officials formally shut down the war in Iraq — a conflict that U.S. Defense Secretary Leon Panetta said was worth the
price in blood and money, as it set Iraq on a path to democracy. Panetta stepped off his military plane in Baghdad Thursday as the leader of America's war in Iraq, but will leave as one of many top U.S. and global officials who hope to work with the struggling nation as it tries to find its new place in the Middle East and the broader world. More than 100,000 Iraqis have been killed since the U.S. invasion in 2003, according to the Iraq Body Count website. Bombings and gun battles are still common. And experts are concerned about the Iraqi security force's ability to defend the nation against foreign threats/AP. More here. (AP photo: rmy soldiers salute during ceremonies marking the end of US military mission in Baghdad, Iraq, earlier today)
Question: Was it worth it?