Everything tagged
Latest from The Spokesman-Review
In response to a New York Daily News photo essay, published by the New York Daily News last week, human-rights activist Tony Stewart wrote to the newspaper. His message read in part:
"We were deeply concerned with the story yesterday in your newspaper that could give the impression that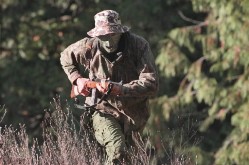 Idahoans are either supportive or that we at least ignore such groups as those in your story. We have a record of great opposition to such messages or activities. May we request that you go to our website and review our history of human rights stories and victories. We would deeply appreciate your review and we would be very willing to talk with one of your reporters. Our work has been covered by media from all over the United States and even some other countries. We have been interviewed several times over the years by the New York Times and most recently we were part of a human rights story in the Wall Street Journal regarding the passage of anti-discrimination ordinance in the City of Coeur d'Alene." Full letter here. (SR file photo)
Question: What do you make of militia activity in North Idaho's back woods?
North Idaho's fringe, right-wing groups captured another 15 minutes of fame, courtesy of the New York media. On Thursday, the New York Daily News featured a photo essay of the Light Foot Militia, snapped by Reuters

photographer Matt Mills McKnight. The article showed North Idaho and Spokane militia members drilling and bonding at their third annual retreat near Priest River – some 73 in all, at peak time. A mother brought her 12-year-old daughter and another girl to the testosterone-fest. Sasha Goldstein of the Daily News reports that the girls shot "large weapons." And that militia members got "extensive training to expect the unexpected: rifle and pistol shooting, first aid, mines and close quarter combat." Close quarter combat? Now there's something that'll come in handy at those Black Friday sales after Thanksgiving/DFO, Sunday SR Huckleberries. More here.
SR weekend column roundup:
Question: Do you think 73 participants in a backwoods North Idaho militia drill is worthy of New York media publicity?
Today, the New York Daily News published a photo essay by Matt McKnight showing militia members from North Idaho and the Spokane area training and bonding near Priest River as part of the Light Foot Militia. You can find more photos by Matt McKnight of the 3rd annual militia gathering in North Idaho at Reuters here.
The June retreat, which peaked at 73 attendees, showed the growing numbers interested in the movement — and the wide range of ages. Stacy Pierce, who says she joined because of President Obama's policies and from "seeing my freedoms being slowly taken," brought along her 12-year-old daughter and her friend. The girls, who learned to shoot large weapons, were among people from all walks of life, such as paramedics and firemen, postal workers and registered nurses are all militia members, Pierce said. And they all get extensive training to expect the unexpected: rifle and pistol shooting, first aid, mines and close quarter combat/Sasha Goldstein, New York Daily News. More here.
Question: And you wonder why North Idaho has the image it does?