Everything tagged
Latest from The Spokesman-Review
Piniella, always worried about his pitching staff, hit upon the notion of going with a four-man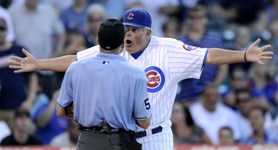 rather than a five-man rotation. His next comment was priceless. "Now at four in the morning it seemed to work for me," Piniella said. "Whether it works at 7 o'clock at night or 1:30 in the afternoon, I'm not sure." Exactly. What seems like gold at 4:00 a.m. often looks like something a lot less valuable in the cold light of day. In any event, we may never know if another of Lou's middle-of-the-night brainstorms is a keeper, since he vows he is done with the dugout and, finally, really going to hang it up/Marc Johnson, The Johnson Report. More here. (AP file photo: Paul Beaty — On his next-to-last game as a Major League manager, Chicago Cubs Manager  Lou  Piniella yells at home plate  umpire  Dan Iassogna after Atlanta Braves Saturday.) 
Question: What do you remember fondly re: former Seattle Mariners manager Lou  Piniella, who retired from managing the Chicago Cubs Sunday?
Lou Piniella is retiring as manager of the Chicago Cubs effective at the end of the season, the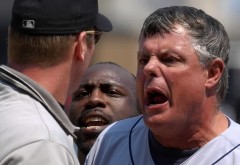 Daily News has learned. The 67-year-old Piniella, who led the Cubs to NL Central division titles in 2007 and 2008, is in the last year of his contract and has endured a particularly stressful last two seasons in which so many of his high-paid players, including outfielder Alfonso Soriano, third baseman Aramis Ramirez and pitcher Carlos Zambrano have underperformed to their salaries. This year, the Cubs are mired in fourth place, 10 1/2 games back and Piniella, who is in the last year of his contract, wanted to end to the speculation about his future for the good of the organization/New York Daily News. More here. (AP file photo of Lou Piniella and Mark McLamore arguing w/ump during Mariner years, in 2002)

Question: Which baseball manager is your all-time favorite?
Chicago Cubs manager Lou  Piniella is shown during a spring training baseball game, in Mesa, Ariz., this spring.  Piniella is going to retire at the end of the season.  Piniella announced his decision today before a game against the Astros. The 66-year-old manager says he is looking forward to spending more time with his family. See story below. (AP Photo/Morry Gash, File)