Everything tagged
Latest from The Spokesman-Review
Police seized four machetes from an out-of-business Hillyard skateboard shop after the arrest of 39-year-old Glen M. Fisher during a seven-hour standoff with authorities Wednesday (SR photo pictured left).
One of the machetes appeared to have drops of blood on the blade, court documents show.
Authorities believed Fisher to be extremely dangerous and possibly unstable, according to court documents. Fisher also called responding officers "demons,." police said.
The burglary victim, identified as Wayne Howry, has known Fisher for about eight years, he told officers.
Howry was sleeping when he heard someone breaking through his front door, he told authorities. He armed himself with a baseball bat and found Fisher in his apartment, swinging at him with a machete, cutting him on his hands and wrist, documents said.
When a members of the SWAT team entered the shop to which Fisher fled, they found him lying on the floor, face down, documents said, with a shooting bow "around his neck."
Fisher is did not appear in court Thursday, nor Friday following a stay at a local hospital before he was booked into Spokane County Jail. He's expected to appear in court Monday, court officials said.
Related coverage: Alleged machete attack leads to standoff, man's arrest
A man arrested in a machete attack that sliced a Spokane teenager last summer has been acquitted of the crime by reason of insanity.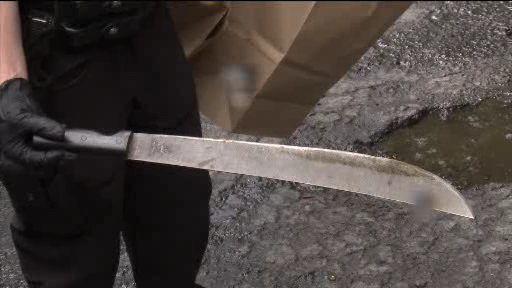 Douglas W. Harmon, the brother of the man who went on an apparent LSD-fueled shooting spree in Spokane in 1971, was accused of attacking a teenage couple with the blade outside Harmon's Spokane apartment June 17.
Eddie Ramsey required more than 100 stitches after the machete sliced his face from his life ear to his jaw, shattered a bone in his life wrist and took a chunk out of his hair
Harmon was charged with assault but quickly transported from the jail to Eastern State Hospital. He pleaded not guilty by reason of insanity on April 14, and Judge Ellen Kalama Clark acquitted him that day, according to court records.
His brother, Larry Harmon was 21 when he stormed St. Aloysius Roman Catholic Church with a .22-caliber rifle Nov. 11, 1971, killing a janitor and injuring four others before being shot to death by police.
The men's late father, E. Glenn Harmon, was a journalist and prominent Spokane attorney who represented The Spokesman-Review and Spokane Chronicle.
Past coverage:
June 24: Suspect in machete attack is brother of GU gunman