Everything tagged
Latest from The Spokesman-Review
One of North Idaho's bright lights was snuffed on Friday. Maj StormoGipson, a highly respected pediatrician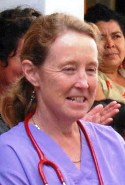 and outdoors enthusiast, died in a Salmon River kayaking accident. Just 57, she was surrounded by family on a six-day rafting trip. The word "brilliant" has been diminished in this age of cheap superlatives, but Maj StormoGipson was brilliant. Equally, and what made her so rare in North Idaho, she was compassionate. Maj and her husband, Justin, graduated from Dartmouth Medical School. Before they specialized — Maj in pediatrics and Justin in ophthalmology — they were general practice doctors for two years. As distinguished Ivy Leaguers they couldn't be blamed for wanting to rush out and recoup as much of their educational investment as possible, in as short a time as possible. But that's not what motivates them/Coeur d'Alene Press Editorial Board. More here.
Thoughts?
Item: Area grieves loss of popular doctor: Maj StormoGipson dies in tragic kayaking accident/Coeur d'Alene Press
More Info: Family and friends are grieving the loss of Maj StormoGipson, 57, who died Friday in a tragic kayaking accident while with her family on the Middle Fork of the Salmon River. According to an email message circulated by family members and friends, StormoGipson, a pediatrician at the Valley Young People's Clinic in Spokane Valley, was in the fifth day of a six-day wilderness whitewater rafting vacation when the tragedy struck. Because the rapids on that stretch of the river were expected to be relatively mild, StormoGipson decided to join other family members in riding them out in inflatable kayaks.
Feel free to extend your sympathy to the family …