Everything tagged
Latest from The Spokesman-Review
​The City of Spokane needs your help. They are asking citizens to provide input on a new online mapping tool that will help inform an update to the transportation and utility chapter of the City's Comprehensive Plan. Using the mapping tool, the public can note locations, intersections, and stretches of street that are problematic and those that are working well.
From the City Of Spokane: Directions on how to use the mapping tool are provided on the site, but essentially a user would navigate to a single point or draw a route and then provide comments about what's working and what's not.
"By using an interactive map that's accessible on the internet, we hope to encourage participation from those who would like to provide feedback but don't have the time to attend meetings," says Scott Chesney, the City's Planning Director. "We are working to reach out to the public in new ways that fit better into their busy lives."
The transportation and utility chapter update process, which was launched last fall, is called Link Spokane. Link Spokane will address the future needs of all transportation users, including vehicles, freight, transit, bicyclists, and pedestrians, while identifying opportunities to leverage coordinated utility infrastructure improvements.
TRAIL MAPPING — Soon you'll be able to look intimately at a trail on your computer or smartphone before launching out to hike, bike or ride a horse on it.
Google has begun applying it's Street View technology to the backcountry.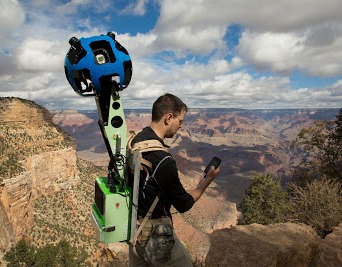 In its first official outing, the Street View team is using the Trekker—a wearable backpack with a camera system on top (see video above)—to traverse the Grand Canyon and capture 360-degree images of the breathtaking natural landscapes.
Google staffers have been hiking with the Trekker to capture portions of the South Rim at Grand Canyon National Park, as well as the famous Bright Angel Trail, and South Kaibab Trail."
Google said the new imagery would soon be making its way to Google Maps.
See details on the project in this report from the Associated Press.