Everything tagged
Latest from The Spokesman-Review
Not long ago, my sister-in-law asked me a question that I hadn't considered. Was I planning to let my son, who was then 3, play football? The question struck me as overly cautious. Why wouldn't I? It won't break my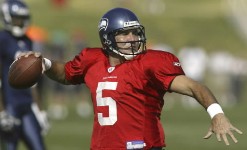 heart if he grows up with a wariness of the sports-worship that afflicts our culture, but if he wants to play, why not? After all, I played football – a little bit, very poorly – and look how well I turned out. You can get hurt doing all sorts of things. Then she gave me a few good reasons, involving the frequency of concussions, the frequency of repeated concussions, and the fact that frequent, repeated concussions can cause brain injury. The conversation came back to me this week when I read that Mark Rypien, local hero and Super Bowl MVP, was suing the National Football League for "repeated traumatic injuries to the head"/Shawn Vestal, SR. More here.
Question: Would you let your baby grow up to be a high school football player?
Like a chip off the old block, the offspring of former WSU quarterback and Super Bowl MVP Mark Rypien (pictured) will be

lining up under center this fall. Angela Rypien will play quarterback for the Seattle Mist lingerie football team. That's according to published reports, although the Mist website has not been updated to reflect Rypien's addition. The Mist plays its home games at the ShoWare Center in Kent. The home opener will be Nov. 4 at 6 p.m. against the Las Vegas Sin/KING5 News. More here.
Question: Would you have mixed emotions if your daughter was a quarterback in a lingerie league?