Everything tagged
Latest from The Spokesman-Review
Spokane County says the moratorium will seriously impact its use of a county-owned site near Tschirley, east of the Spokane Business and Industrial Park, which the county was planning on turning into a gravel pit. Get background on the moratorium here.
OLYMPIA — Legislative Republicans accused Gov. Jay Inslee of misusing his power by announcing a blanket moratorium on all executions during his term.
"It's the Legislature that decides whether (capital punishment) is an appropriate policy," Sen. Steve O'Ban, R-University Place, said, while a governor has the authority to stay the execution of a particular inmate on an individual basis. "He has usurped his role."
Inslee announced Tuesday he would not allow anyone who has been sentenced to death by the courts and exhausted all appeals to be executed while he is in office, hoping that would spark a discussion on whether equal justice is being served by capital punishment in Washington. A successor could allow the executions to go forward if he or she chooses, Inslee said.
Criticism from O'Ban and other Republicans was varied, and at times seemed contradictory. At one point, O'Ban said it could take a valuable tool out of the hands of prosecutors, who have used the possibility of not seeking the death penalty as a way to force serial killers to reveal information about victims; later he said it won't save the state any money because prosecutors will still be seeking the death penalty for cases that qualify for them.
O'Ban later said that defense attorneys will bring up the moratorium in discussions and "undercut" a prosecutor. It would also lead to "open season" on prison guards for inmates serving life without parole, because they'd have nothing to lose by killing a guard.
The threat of the death penalty didn't keep Monroe inmate Byron Scherf from strangling prison guard Jayme Biendl in 2012. But Sen. Kirk Pearson, R-Monroe, said he is hearing from prison staff who want to know the Legislature is doing the best they can "to make them safe."
The Legislature could address problems with the cost of capital punishment and the long delays from appeals without a complete suspension, O'Ban said.
A spokesman for Inslee said the governor acknowledged Tuesday that people will disagree with his decision. As to the suggestion that Inslee was usurping his power, Attorney General Rob Ferguson said Tuesday the decision was within Inslee's authority as governor, and spokesman David Postman said the public can judge who was right on that point.
To read Ferguson's press release on the legality of the moratorium, click here to go inside the blog.
A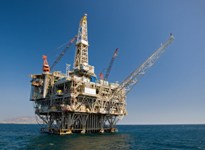 federal judge in New Orleans on Tuesday blocked a six-month moratorium on deep-water drilling projects that the Obama administration imposed in response to the vast oil spill in the Gulf of Mexico. The White House swiftly said the administration would appeal the decision. In a 22-page ruling, United States District Judge Martin Feldman issued a preliminary injunction against the enforcement of a May 28 order halting all floating offshore drilling projects in more than 500 feet of water and preventing the government from issuing new permits for such activity/Charlie Savage, New York Times. More here. (AP Busiiness Wire)
Question: Do you agree with this decision by Judge Martin Feldman?