Everything tagged
Latest from The Spokesman-Review
An investigation of an out-of-business Spokane Valley pet store has led to charging recommendations by SCRAPS officials to Spokane County Prosecutor's Office, according to a news release.
The owner of the closed Evergreen Pet Shop could face first and second degree animal cruelty charges for the treatment of their animals that were kept in the store while in transition to a new property owner.
SCRAPS officials have also recommended misdemeanor charges of confining animals in an unsafe manner. Numerous complaints were filed in Nov. against the store for reports of dead animals and failure to provide proper food, water and sanitation for what pets were being housed.
Investigators found 12 dead rats and 9 dead mice during their initial look into the store, according to Nancy Hill, director of SCRAPS. The rodents were examined by local veterinarians for SCRAPS' report. They also looked at some of the live animals adopted by members of the community after the store's ownership was transferred to new property owners.
SCRAPS has received several complaints over the years for the pet store, said Nancy Hill in an earlier interview, but nothing has risen to the point of being a violation until now.
Even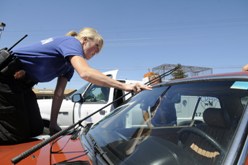 with the windows cracked, the temperature of the leather seat inside the Mercedes-Benz parked in the Value Village parking lot on East Sprague on Saturday afternoon climbed to more than 140 degrees. Down on the floor, where Olive, a Yorkshire terrier, was huddled beneath the foot pedals, an infrared gun gauged the temperature at a cooler 109 degrees. "It's literally like cooking," said Spokane County Regional Animal Protection Services Officer Ashley Brown, who was dispatched to rescue the dog. It's a scene that's all too familiar for animal control officers/Sara Leaming, SR. More here.
Cutlines: Animal Control Officer Ashley Brown climbs onto a car to try and unlock it through the sunroof to free a dog left in the car on a hot day Saturday along Sprague in Spokane Valley. (SR photo: Jesse Tinsley)
Question: Would you break a vehicle window to save an animal left inside?