Everything tagged
Latest from The Spokesman-Review
Here's a link to my full story at spokesman.com on today's visit by the secretaries of the departments of Interior and Agriculture to NIFC, the National Interagency Fire Center in Boise, where the two said sequestration and other federal budget cuts will hit hard just as a "difficult" fire season looms for the nation.
New Interior Secretary Sally Jewell called on citizens and communities to be "fire-wise" and take steps to protect their homes, particularly those in or near the woods or wildlands, from burning in a wildfire. "We as private citizens … play an important role," she said, "especially in these areas where we want to live, have our cabins up in the mountains, and they are oftentimes in harm's way." Jewell said people need to create defensible space around homes or cabins, clear brush, trees and flammable materials, and help their neighbors do the same. "I really encourage you to do that," she said.
This year's fire season already has seen 13,000 fires start, but that's actually a low number – the lowest in the last 10 years. That's mainly because there's been ample rain and snow across the eastern United States, limiting the fires that otherwise would normally have ignited by now in the Southeast.
But this year is expected to see above-normal risk in parts of the west, particularly the southwest, due to precipitation that's run far below normal. Southern California has gotten only a quarter of its normal precipitation so far this year. NIFC officials said the wildfire season in West Coast states is expected to start a month earlier than normal this year as a result; fires already have been burning in southern California and even in southern Idaho.
U.S. Interior Secretary Ken Salazar and U.S. Bureau of Land Management Director Robert Abbey joined Idaho Congressman Mike Simpson today for a tour of the National Interagency Fire Center, from which nationwide wildland firefighting operations are coordinated, and a briefing on this year's fire season. The verdict so far: It's looking grim for the southern tier of the United States, but not bad at all in the northern tier, where huge amounts of moisture promise to delay the start of the wildfire season well beyond normal.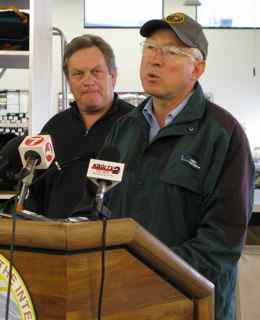 In the Northwest, Salazar said, "We may not have as many fire threats as we have in other places." However, Abbey cautioned, "It's one thing to make predictions in April. … A lot can change in a very short period of time." Among the possibilities: The very moisture that's dampening fire risk now could promote so much growth in grasses and brush that come August or September, when that foliage dries out, fire risk could jump. "It's still important for individual homeowners to take responsibility for defensible space around their own homes," Abbey said. "All of us have a responsibility."

The nation already is seeing significant fire danger - and some major, active fires, including destructive and spreading blazes in Texas - in New Mexico, Texas, southern Colorado, Oklahoma, and southern Florida, Salazar said. Within 30 days, Abbey said, the risk will spread to Arizona, southern California and Nevada. Salazar called NIFC in Boise "the heartbeat of how we deal with fires" throughout the nation, and said Idaho's lucky to have it here. The multi-agency facility coordinates fire operations from smokejumper crews to aircraft to weather-forecasting services. "This truly is an example of how government should work," Simpson said. "Many different agencies come together here and work in coordination." Click below for a Department of Interior press release on the visit.