Everything tagged
Latest from The Spokesman-Review
(Photo by Cheryl-Anne Millsap)

I turned the corner, down an unfamiliar street, my mind so oblivious to where I was going I might just as well have been a dog with its head out the window, lost in the delicious rush of mysterious and fragrant air, just happy to be out and about with no thought of what might be ahead.

Most of the leaves had fallen from the trees, swept down by the wind and an early snowfall, and the sidewalks and street were littered with the russet and copper remnants of a spectacular autumn. But at the end of the block a scarlet tree still blazed, a burning bush, bright and vibrant against the faded landscape. Even the sun could not ignore it and sunlight danced in the tree, painting the leaves with subtle shades and shadows.

It was impossible to look away and I didn't try. I gazed at it as I drove by and even looked back at it in the rearview mirror.

Thursday my family will sit down to our Thanksgiving meal and for the first time one of our small group will be absent. My son is away, working in Japan, and we will miss him even as we celebrate his success.

We are so fortunate to have made it this far without an empty seat at the table. Even in difficult times—and I have never pretended there weren't some truly difficult days—we gathered, held hands, and spoke aloud the things for which we were most grateful.

Each year I compose a mental list but when it is my turn to speak, the words fly out of my head. I tear up and can say only that I am grateful for the love of those around me. But what I can never seem to get out is that I am filled with gratitude for the gift of a million small moments.

There were quiet Sundays spent reading, curled in the big chair beside the fire, my husband stretched out on the sofa. There were Saturday morning feasts that lured home grown children who filled the house with the sound of laughter and the smell of bacon and coffee.

There were quiet walks through the park with my dogs and the rapturous look on my daughter's face as we stood in Notre Dame Cathedral on a rainy January day in Paris. There was the afternoon my son turned to me and recited a poem I'd read to him when he was a boy, and my firstborn's secret smile when she told us her news.

There were shooting stars glimpsed from my back door and my youngest daughter's shining face as she sat in the saddle, flying on horseback. There was, just this week, the chance encounter with a beautiful brilliant tree in a landscape that had already surrendered to winter.

On Thanksgiving Day I will blink back tears and fumble the opportunity to say what I feel. But in my heart I will celebrate the quiet gift of time and the chance to have lived one more extraordinary year of ordinary days.


Cheryl-Anne Millsap writes for The Spokesman-Review and is a contributing editor at Spokane Metro Magazine. Her essays can be heard on Spokane Public Radio and on public radio stations across the country. She is the author of "Home Planet: A Life in Four Seasons" and can be reached at catmillsap@gmail.com
Movember is upon us, beginning this Tuesday. No, NOT just November, MOvember, baby. In the US, in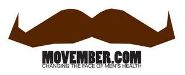 Europe and even down under in Australia. Mustache time, pardner…. to fight prostate cancer in men. In anticipation of last week's post of the 130th anniversary of the Earp brothers historic gunfight, I found myself inundated by mustaches from the 19th Century and Hollywood. Huge things. Huge hairy 'staches of Wyatt and Virgil and Morgan … as well as a pencil thin one from Doc Holliday. It caused me to reminisce. See, 35+ years ago I grew out "The 'stache that NEVER quit growing." And I kept it, for the most part/Dennis Mansfield. More here.
Question (for men): Have you ever worn a mustache? Or (for women): Do you like to see men wearing mustaches?
Giving Thanks
By Cheryl-Anne Millsap
Special Correspondent to Pinch
I cook the same meal each Thanksgiving, by request, and seldom make any dramatic changes to the menu. So each November the house fills with the savory fragrance of our traditional meal. Sage, celery seed, pepper and onion in the Southern cornbread dressing. Cinnamon, brown sugar, pecans on top of the buttery sweet potatoes. The unmistakable aroma of roast turkey and fresh rolls.
The scents that surround us that day are comforting and familiar and pull each of us back in time. My children can close their eyes and connect the dots of their memories, recalling similar meals in different houses and cities.
Alone in the kitchen, a big yellow ware bowl and a faded recipe on the counter, I remember my own childhood, standing in my grandmother's kitchen with my brother and sister, one of her aprons tied under my arms, a big mixing spoon in my hand, the house full of aunts, uncles and cousins who will gather around the big table in the dining room…