Everything tagged
Latest from The Spokesman-Review
Panda Express is débuting a new dish.
And Wednesday, Oct. 2, Facebook fans of the fast-food chain can try it for free.
Panda Express is giving away servings of its new entrée – thin strips of chicken, string beans and yellow bell peppers in a sweet honey sesame sauce – to Facebook fans who bring in a free, downloadable coupon.
Honey Sesame Chicken Breast will be available at all Panda Express restaurants for a limited time.
Founded in 1983, the restaurant has more than 1,600 locations in 46 states.
For more information, visit www.pandaexpress.com.
On his wall, Facebook Friend Joe Butler writes re: a "Free Panda (Express) Thursday": "And by free, we've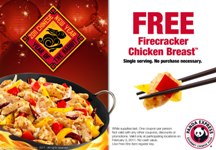 learned that this means 'at participating restaurants,' and sometimes you have to buy other stuff, and try to get there prior to noon before the overworked lunch staff gets all surly." Any Spokane folks wanting to get in on this, let me know." I thought I'd be more enthused about Panda Express when the one opened at 4th & Appleway. But I've only eaten there 2 or 3 times. Too expensive for small portions. I prefer Safeway deli on Neider, if I want fast food Chinese.
Question: Are you a Panda Express fan?