Everything tagged
Latest from The Spokesman-Review
Breezing through airport security? For some, it's about as likely as seeing a unicorn.
But for 9-year-old Emily Harris of South Wales, it was her toy passport featuring a photo of a pink stuffed unicorn toy that secured her passage through the security line at Turkey's Antalya airport.
"We saw the funny side, and laughed at the fact that the officer had even stamped the passport," Emily's mom, Nicky, told Caters News Agency. "But at the same time, it's a worry to any parent, how easy it would be to smuggle a child through customs and into another country."
Emily's passport was technically a novelty item included with her stuffed animal, which was purchased at the Bear Factory retailer. The cover of the passport reads, "European Union, United Kingdom of Great Britain and Northern Ireland." OK, so far, it's understandable and somewhat official looking. But then, the passport case shows the silhouette of a bear's head with the words, "Design A Bear" written below in childlike, golden colored scrawl. Full story.
Do you have a passport?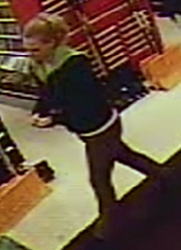 Spokane County sheriff's detectives are asking for help identifying a woman pictured in these store surveillance photos.
Police believe the same woman on Nov. 21 used a passport stolen in a vehicle prowling to pawn two rifles stolen in a burglary on Nov. 20.
Anyone with information on the woman's identity is asked to call sheriff's Detective Dan Spivey at (509) 477-6376 or Spokane police Detective Lonnie Tofsrud at (509) 625-4221.