Everything tagged
Latest from The Spokesman-Review
One would think Tom and Patricia Power are busy enough. They own The Cellar in downtown Coeur d'Alene.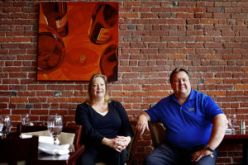 They own Sunshine Minting Inc., which has operations in the Lake City, along with Nevada and China. Then, there's Power Audio Video, which specializes in home theater and integrated home systems. And we haven't even mentioned their real estate holdings company. Add another business venture to the list, this one, a key to the future of downtown Coeur d'Alene. The Powers recently purchased the former home of Wiggett's Antique Marketplace at Fourth and Lakeside, "because," as Patricia said with a smile, "we don't have enough to do." The 27,000-square-foot building has been sitting empty for about five years/Bill Buley, Coeur d'Alene Press. More here. (Jerome A. Pollos photo of the Powers in their downtown Coeur d'Alene restaurant, The Cellar)
Question: The Powers aren't sure what they want to do with the old Wiggett's Antique Marketplace building. What would you like to see it become?