Everything tagged
Latest from The Spokesman-Review
I'm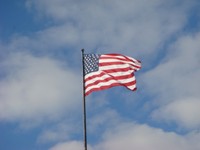 the kind of person who will not say "under God" when saying the pledge of allegiance, out of respect for American atheists, or who will defend in court the person who burns the flag in protest. But I am also the kind of person who looks with pride at that same flag - my flag - as it waves in the wind over a baseball field, as the national anthem plays. I swell with pride, looking at that flag and knowing the ideals that it represents, knowing that I belong to a nation that represents those ideals. Maybe that's why I fit right in here, in America. I am, at heart, an impatient, idealistic, enthusiastic soul/Beth Bollinger, Accidental Rabbit Trails. More here.
HBO numbers (for Tuesday, Aug. 31): 11,205/6551, (for Monday, Aug. 30): 8551/5307; (for month of August): 200,450/124,633; (for year-to-date): 1,566,713/925,587

Question: Do you question the patriotism of people who don't agree with your politics or religion?