Everything tagged
Latest from The Spokesman-Review
Pete Carroll signs an autograph for Rep. Reuven Carlyle at the House rostrum.
OLYMPIA — In a bold move, the Legislature came out officially in favor of the Seattle Seahawks today, with resolutions in both chambers congratulating the team for making the playoffs, and lauding Head Coach Pete Carroll for the team's showing and for work in the community.
Carroll was there to accept the resolutions and sign autographs for legislators — some of whom seemed fairly thrilled by having a real NFL head coach in their midst. State Rep. Larry Crouse, R-Spokane Valley, snagged a Carroll autograph on a pristine football. He said he keeps a supply of footballs and baseballs in his office for autograph opportunities that pop up from time to time.
Carroll made a pitch for support for a program that brings the NFL, YMCA, law enforcement, church groups and local businesses together to help curb youth violence, one person at a time.
The effort started in Los Angeles when he was at USC, Carrol said, and the model is spreading to Seattle and other Washington cities. Private enterprise is providing the funding right now, but it can't cover everything, he said.
"We need to get to the next level. We need state support," he said.
Seattle Seahawks head coach Pete Carroll walks on the field at the start of a walkthrough practice to open NFL football training camp Thursday, July 28, 2011, in Renton, Wash.
For one day, Pete Carroll wasn't hopping around with the vigor and excitement that was so apparent a season ago.
Apparently even the Seattle Seahawks' head coach needed to ease his way into training camp on Thursday at Renton, Wash., after a whirlwind start to free agency that saw the Seahawks land quarterback Tarvaris Jackson, offensive lineman Robert Gallery and wide receiver Sidney Rice, and bid adieu to quarterback Matt Hasselbeck after a decade in Seattle.
Oh, alright. I admit it. I'm a diehard Seahawk fan and have been ever since I had a Steve Largent poster on my wall when all my friends had Andy Gibb posters. And I'm GLAD, glad Hasslebeck is gone. In addition, this is the first summer in 3 years that I haven't had a kid in football camp. And that makes me sad!
Is it too early to talk about football?
Now on sale at the Seattle Seahawks team store: khaki pants and rumpled navy hoodies,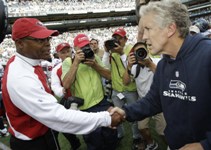 essentials from The Pete Carroll Collection. Got to beat that old Pork Chop Womack replica jersey you used to wear on Sundays, right? Does it ever. Beats it badly. Just the way the San Francisco 49ers were beaten Sunday in the Seahawks' 35th season opener, a turn of events few outside of the war room down at the team's Renton headquarters saw coming. Despite playing the fashionable pick to win the NFC West – if there is such a thing as fashionable in that Village of the Damned – and running exactly four offensive plays the first quarter, the Seahawks rolled 31-6 and 67,044 at Qwest Field rocked/John Blanchette, SR. More here. (AP photo/Ted S. Warren: Pete Carroll shakes hands with 49ers coach Mike Singletary after the Seahawks dismantled San Francisco 31-6 Sunday.)

Question: Are you ready to jump on the Pete Carroll/Seattle Seahawks bandwagon now?