Everything tagged
Latest from The Spokesman-Review
FISHING — September into October has long been known as a great month to go fishing for northern pike in the Idaho Panhandle, and the season is getting an added attraction.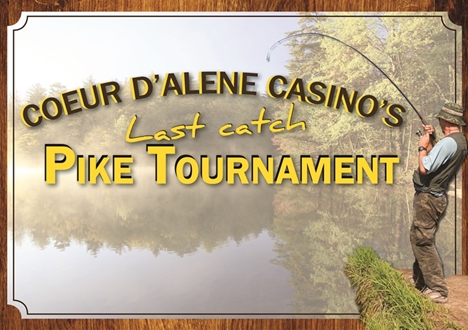 The debut of the Coeur d'Alene Casino's Last Catch Pike Tourney is set for Saturday, Sept. 13, on Lake Coeur d'Alene and the chain lakes.
Boats will launch from Harrison in two waves:
7 a.m. ending at 3 p.m.
7:30 a.m. ending at 3:30 p.m.
Entry is $100 per two-angler team if purchased in advance through TicketsWest or $10 additional fee to sign up at launch site.
The event is sponsored by Cabela's and the Coeur d'Alene Tribe, which would like to encourage more anglers to enjoy the fun of catching lunker pike while coaxing them into harvesting a few more of the abundant non-native species.
Here's the skinny on the tourney:
Two Person teams
Pays out 15 slots
Must be age 18 or older
No live bait; artificial lures only
Five fish creel
Bonus fish award for pike caught in Lake Cd'A's Windy Bay
No size limit
No boundaries
Obey lake laws
Two pole limit
Harvest only
Big fish prize
Fish from boat or land
Info: Tim Williams (208) 582-0701.