Everything tagged
Latest from The Spokesman-Review
Gonzaga's athletic director doesn't believe Mark Few and Ray Giacoletti's connection to David Salinas — a the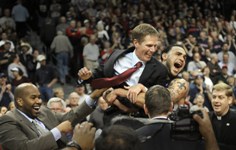 founder of a summer basketball program and a suspected Ponzi scheme architect — has anything to do with basketball. But CBSSports.com is now reporting that the NCAA thinks it might be. Yesterday, amid reports that Mark Few, head coach of GU's men's basketball team, and Ray Giacoletti, an assistant coach, had jointly invested more than a million dollars with Salinas, GU Athletic Director Mike Roth issued a statement saying the whole thing was tragic, but "not a basketball matter." The NCAA seems to disagree. CBSSports, who first broke the Salinas story, is now reporting that an investigation is already underway/Luke Baumgarten, Inlander. More here. (SR file photo: Christopher Anderson)
Question: How nervous are you that the NCAA is investigating investments made with a suspected Ponzi schemer by several prominent basketball coaches, including Gonzaga's Mark Few?
Item: Madoff sentenced to 150 years: Federal judge gives maximum sentence to Ponzi mastermind following his apology and victims' request for life sentence/CNN Money.

More Info:  A federal judge sentenced Bernard Madoff, the convicted mastermind of the largest and most sweeping Ponzi scheme ever, to the maximum sentence of 150 years in federal court Monday. Judge Denny Chin of U.S. District Court in New York announced the sentence just moments after Madoff apologized to his victims. "I live in a tormented state for all the pain and suffering I created," Madoff said. "I left a legacy of shame. It is something I will live with for the rest of my life."
Question: Was the sentence appropriate?