Everything tagged
Latest from The Spokesman-Review
Two trails, the North Idaho Centennial Trail and the Prairie Trail, need to be seal coated. Both seal coating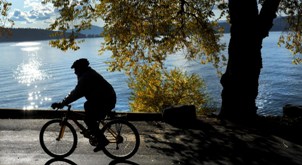 projects will be "rolling projects," meaning that the seal coating takes about two hours to dry, so the trail will be usable soon after the contractor has sealed it. The contractor can seal about one mile of trail per day. During the seal coating period, users will not be directed to an alternate route – rather, please be aware of the project, use the shoulder when traveling around the work area, and, when appropriate, walk bikes around the work area.Work on the Prairie Trail begins Tuesday. It will start where the Prairie Trail intersects the Centennial Trail north of Riverstone and the work will continue to Huetter Road. The nearly 4 ½ miles of Prairie Trail should be completed by Aug. 3. Work on the Centennial Trail begins Monday, Aug 6/Coeur d'Alene Today. More here. (SR file photo: Kathy Plonka)
Question: Do you use the Prairie Trail?
This just in from Coeur d'Alene Ped Bike Facebook page: "The Atlas Trail is being extended under I-90 and will contect to the Centennial Trail. The project is scheduled to be completed by the middle of September."
Question: How cool is this?

Margaret Bennett , of Coeur d'Alene, wrote the following letter to the Coeur d'Alene Press: "While walking on the Prairie Trail on a beautiful Saturday morning I was struck from behind by a bicyclist. My forearm was scraped and I was knocked off the trail. Approximately eight to 10 riders were riding in the pack and witnessed the accident. No one stopped. Within 30 seconds they were all gone — back to the ride, conversation, fun.  I received first aid treatment at the Kroc Center about a block away." More here.
Monte McCully, trails coordinator for city of Coeur d'Alene, explains proper etiquette for trails in this video here.

Question: Have you, as a pedestrian, had a close encounter with a bicycle rider?