Everything tagged
Latest from The Spokesman-Review
Athletes have the Olympics. Actors have the Academy Awards. Musicians have the Grammys, and quilters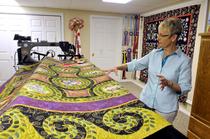 have Paducah. Each April thousands of quilters travel to Paducah, Ky., for the American Society of Quilters Quilt Week and Show. Last month, Spokane quilter Terry Engleman won second place in the 1st ASQ Show Entry, Bed Quilts category for her Japanese Flower Garden quilt. Her win came with a $1,000 award. "I couldn't believe it when they called my name," Engleman said. "Just being accepted is a big deal!" Indeed, the 2013 show featured 401 quilts in 15 categories/Cindy Hval, SR. More here. (Jesse Tinsley SR photo: Terry Engleman won second place in her category at the prestigious American Society of Quilters show in Paducah, Ky., last month with this quilt)
Question: Are you a quilter? And/or: Have you ever won a major award?
It all started with Cynthia Baker's passion for embroidery. Her husband, Topper, bought her a small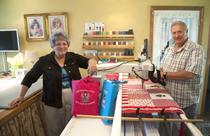 embroidery machine. Overwhelmed with caring for her aging mother-in-law, Baker found respite and escape. "I embroidered everything in the house," she said. "Towels, pillowcases …." She even embroidered her mother-in-law's shirts. Eventually, Baker decided to make quilt blocks and take up quilting. She said, "Topper thought that was a great idea." In fact, he told her he'd like to help her. "I always thought I'd like to sew," he said. His wife looked at him and smiled. "He just blossomed!" That was 153 quilts ago/Cindy Hval, SR. More here. (SR photo: Colin Mulvany)
Question: Do you or someone in your family quilt? Tell us about it.