Everything tagged
Latest from The Spokesman-Review
The Illinois Supreme Court has ruled that Rahm Emanuel, pictured in AP photo, is eligible to run for mayor of Chicago and ordered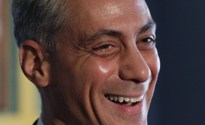 him to stay on the ballot. Earlier this week, an Illinois appellate court declared that the former White House chief of staff did not meet Chicago's requirement that candidates for mayor have to "reside" in the city for a year before seeking the office. The court ruling is here. The seven-member Supreme Court unanimously agreed that the appellate court's basis for declaring Emanuel ineligible was "without any foundation in Illinois law"/USA Today. More here.
Question: Will Emanuel pick up sympathy vote as a result of this attempt to keep him off the ballot?
Former President Bill Clinton appears at a rally for Chicago mayoral candidate and former White House chief of staff Rahm Emanuel last week in Chicago. Emanuel was trying to succeed the retiring Mayor Richard Daley. But a state appeals court ruled today that Emanuel can't run for mayor because he wasn't a resident of Chicago for a full year. The election is Feb. 22. Story here. (AP Photo/M. Spencer Green)
Reaction?
President Barack Obama and Chief of Staff  Rahm  Emanuel  walk to board Marine One on the South Lawn of the White House in Washington for a short flight to Andrews Air Force Base as they travel to Chicago. Obama has made  official what has been clear for days:  Rahm  Emanuel, the relentless enforcer of his agenda as White House chief of staff, is resigning to run for mayor of Chicago. Story here. (AP Photo/J. Scott Applewhite)
Question: In his cartoon today, conservative Michael Ramirez compares this move by Rahm Emanuel as someone bailing out of a plane about to crash. How do you view it?