Everything tagged
Latest from The Spokesman-Review
It isn't often that a New York Times opinion columnist holds Idaho up as a model of how to do things. But bicycle enthusiast Randy Cohen did that recently. Cohen, who writes the Times Magazine's Ethicist column,

admitted that he rolls through stop signs and stoplights and sometimes rides on sidewalks. But he doesn't "salmon" (ride against traffic). Then, he reasoned that his "rolling stops" were legal in some places. Like Idaho. Indeed, an Idaho bicyclist is allowed to slow down and roll through stop signs, if it is safe to do so. Argues Cohen: "Laws work best when they are voluntarily heeded by people who regard them as reasonable. There aren't enough cops to coerce everyone into obeying every law all the time. If cycling laws were a wise response to actual cycling rather than a clumsy misapplication of motor vehicle laws, I suspect that compliance, even by me, would rise." Cohen would really wax poetic if he knew that Idaho also allows bicyclists to cross against a red traffic light after stopping, if the coast is clear. Idaho more progressive than New York? Who woulda thunk it?/DFO, SR Huckleberries. More here.
Other SR weekend columns:
Question: How else is Idaho more pragmatic than New York?
On the New York Times opinion page, columnist Randy Cohen holds up Idaho — Idaho! — as an example of reasonable bicycle law when it comes to stop signs. (Bicyclists can treat them like yield signs and roll through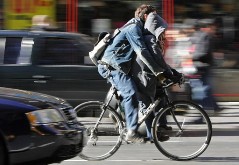 them if the coast is clear.) Writes Cohen: "I am not anarchic; I heed most traffic laws. I do not ride on the sidewalk (O.K., except for the final 25 feet between the curb cut and my front door, and then with caution). I do not salmon, i.e. ride against traffic. In fact, even my "rolling stops" are legal in some places. Paul Steely White, the executive director of Transportation Alternatives, an advocacy group of which I am a member, points out that many jurisdictions, Idaho for example, allow cyclists to slow down and roll through stop signs after yielding to pedestrians. Mr. White e-mailed me: "I often say that it is much more important to tune into the pedestrians rather than tune into the lights, largely because peds jaywalk so much!" If my rule-breaking is ethical and safe (and Idaho-legal), why does it annoy anyone?" More here. (AP file photo: Two bicyclists ride through New York streets)
Question: Should Idaho continue to allow bicyclists to roll through stop signs, if it's safe to do so?