Everything tagged
Latest from The Spokesman-Review
Elizabeth Yalian provided the photo of her son, Jonathan, in his Rathdrum Police Department uniform (above) and as a toddler (below).
Jonathan Franco, the Rathdrum police officer killed in a motorcycle crash earlier this fall, would have been 28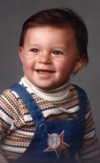 today. In memory of Jonny, HucksOnline is please to run an essay about him by his mother, Elizabeth Yalian. Who notes in the essay that Jonny loved guns and included a note he wrote as a young boy when he got his first gun: "The best thing I ever (heard) was the day Mom said I could have a B.B. gun. I thaohgt I would faint when Mom said yes but I had to get this awfull haircut but I didn't care. Mom had already gotton me B.B.s and later got me some pellets. We went in to Shopco and thier it was the most buitiful thing I ever saw. After school I couldn't wait to go shooting I was very angcious to knock some cans of the hey stak. A few weeks later I got a scope and after Christmas I got a case for it." You can read Elizabeth Yalian's entire essay here.
Question: Elizabeth Yalian has asked people who knew Jonny to drop her a note re: how he blessed their lives.