Everything tagged
Latest from The Spokesman-Review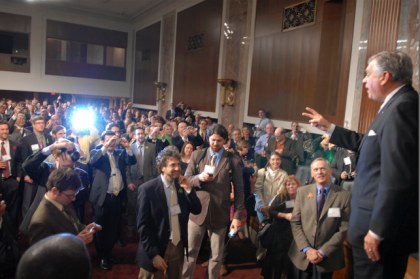 Many transit advocates we're initially concerned with the pick of Ray LaHood as the Secretary Of The Department Of Transportation. Aaron Naparstek on Streetsblog wrote "The selection of a downstate Illinois Republican with close ties to highway lobby stalward Catepillar Inc., is being taken by many as a clear sign that progressive transportation policy is, for now, nowhere near the top of the Obama's agenda." Ha. Now they're singing a different tune - La Hood is a rockstar who shows bike love and, yes, isn't afraid to dance on top of a table. Check this excerpt from an interview with Grist on Livable Communities.

Q. But politically, it's been a little bit of a tough sell. There are a lot of people, especially on the Republican side of the aisle, who seem to think that encouraging density and more walkable communities is, in effect, forcing people to live in the kinds of places that they don't want to live in.
A. I think when politicians begin to listen to their constituents, what they find is that their constituents are way ahead of them on livability and sustainability, on having cleaner, greener communities, on having walking and biking paths, on having streetcar systems. I think when politicians who are elected by the people begin to listen to their constituents, they begin to get with this kind of livable, sustainable community program.