Everything tagged
Latest from The Spokesman-Review
On her End Notes blog, SR colleague Rebecca Nappi writes: "Please help us come up with a name that best
describes how baby boomers will age. They won't do it the same as parents and grandparents. My story today explained how most boomers will likely work into their 70s and 80s, plunge into "encore careers" and not be as broke, in pocketbook or body, as feared. So help us rename this group. They won't like elderly or senior citizen, believe me. Email your suggestions to rebeccan@spokesman.com
Anyone?
On May days here in the 1970s, I didn't worry much when I looked out the window of my morning high school classes and saw the pouring rain. I knew that by the time school ended in the afternoon, the sun would be in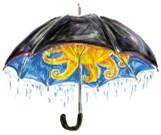 the sky. Perfect weather for our bike rides through Riverside State Park or for walks in Audubon Park. Back then, we could easily predict the spring and summer weather in Spokane. May? Rain in the morning, followed by afternoon clearing. Memorial Day? Fifty-fifty chance of rain. June? Don't go to camp; it always rains. Fourth of July? See Memorial Day. July and August? Mostly hot weather, interspersed with glorious thunderstorms. But I'm no longer predicting spring-winter weather, because the weather patterns I grew up seem to have vanished. I miss them/Rebecca Nappi, SR. More here. (Spokesman-Review illustration)
Question: Do you miss predictable weather in the Inland Northwest?
In her new End Notes blog, SR colleague Rebecca Nappi posts: "At lunch Thursday with one of my favorite people, Dr. Elizabeth Welty, who was a doctor in Spokane when women doctors were quite rare here, told me the 'secret' to an active life at 96. 'Keep busy. Plan tomorrow.' And, I noted, she drank real coffee — black." (2007 SR file photo of Dr. Welty)
Question: What would say would be the secret to a long life?