Everything tagged
Latest from The Spokesman-Review
FLY FISHING — The fifth annual Red's Rendezvous is stacking up to be a major fly fishing event that's attracting anglers from far and wide for clinics, competition and participation.
And, if the offering's at the Red's Fly Shop and Canyon Ranch on the shores of the Yakima River don't impress you, the Yakima's skwala hatch is going strong.
Here's a summary of what's going on outdoors at the Rendezvous:
Pacific Northwest Fly Casting Championship, with proceeds going to the Yakima Kid's Fish-in Event.
Dry Line and Dry Fly Steelhead Fishing with Spey Rods by Brian Silvey.
Switch Rod Casting Seminar by George Cook.
Guide Style Nymph Fishing Strategies by the Reds Fly Shop Staff.
Steelhead Fishing for NEWBIES by Steve Joyce.
European Style Nymph Fishing — on the river — by Russell Miller of Team USA Fly Fishing.
Learn to Double Haul Fly Cast by the Reds Fly Shop Staff.
Plus raffles for top-flight Sage rods, Putt-Putt fly casting challenges for prizes, a Youth BB Gun Shooting Range and horseback trips.
INDOORS SESSIONS include:
IF4 Fly Fishing Film Festival showing at 11:30 a.m. and 2 p.m.
Fly Tying - All Day!
Upper Missouri:The Land of Giants! by Mike Agee.
The Fly Fishing Mecca… Sounds Like Christmas Island by Jon Covich.
Ascension Bay Flats Fishing by Joe Rotter.
Strategies for DIY anglers Fishing for Big Trout on Eastern Washington Lakes by George Cook.
Support The Yakima Canyon Scenic Byway.
FLY FISHING — I'm ready to take a few days off, but I'll leave this parting thought to help fly fishers decide what they should be doing with their free time in the next week or two:
Caddis action on the Yakima River has been good in recent weeks, but the insect hatch that makes the Yakima River a standout among the greatest trout rivers in the West is going to peak in the next two weeks.
The Yakima's summer stonefly hatch — triggered later than natural river stonefly hatches in part because of increased irrigation flows — rivals any stonefly hatch in the country, with incredible big dry fly action in the wee hours, according to the guides at Red's Fly Shop south of Ellensburg.
Read on for details from Red's.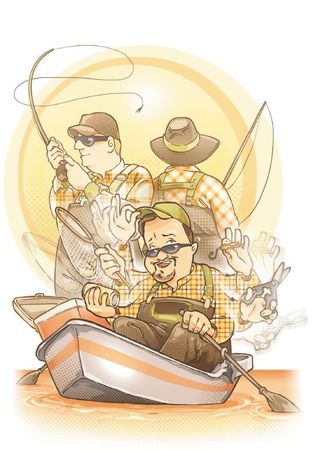 FLY FISHING — Jeff Mayor knows the advantages of fishing with guides, especially in a drift boat on unfamiliar stretches of river. But he and two buddies had a great time recently fishing on their own in a rented drift boat on the Yakima River.
They even caught some trout!
Where: Yakima River
Costs: At Red's Fly Shop, south of Ellensburg, drift boats are $169 per day, rafts are $159 per day and pontoon boats are $60 per day. Note that the pontoon boat fee does not include shuttle service.
Preparation: Give yourself plenty of time. That means beginning at the shop to take care of paperwork. Also, allot enough time for being on the water. A popular float is from the Ringer ramp to Red's, about 10 miles. That will take at least eight hours, including time to do some wade fishing.
While not required, it's not a bad idea to end your trip at the shop. All you have to do is tie off the boat to a post and head home, giving you more time to spend fishing. Otherwise you have to arrange for a time to meet the shuttle back to the shop.
Load: A drift boat only has so much cargo space, so combine as many gear bags and coolers as you can.
Timing: Rivers flows are lower in the late fall to spring, making it easier to row. But you also might hit some low spots. Summer flows are raised for downstream irrigation. That makes for faster water and faster trips.