Everything tagged
Latest from The Spokesman-Review
Forget about reading the pro and con statements in the Voter's Guide regarding the three referenda on the November ballot to repeal the Otter/Luna educational reforms. Ignore the million-dollar campaigns both sides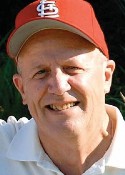 will mount with slickly designed emotional appeals that will tug at your heart strings. Answer one fundamental question: Who do you most trust your children's and grandchildren's future to, the teachers who are with them in the classroom 180 days a year, or a governor and a school superintendent hell-bent on rationalizing investing fewer dollars in education and who are dictating reforms from the top down? This really does boil down to "who do you trust?"What Gov. C.L. (Butch) Otter and Superintendent Tom Luna don't get is that trust is at the heart of the people sanctioning government to provide services and to divine the greatest good for the greatest number. Trust, like virtue, once lost can never be regained. From the get-go the governor and the SPI forfeited that trust by the dishonest and deceptive way they went about ramming their idea of reform down the public's throat/Chris Carlson, Carlson Chronicle. More here.
Question: Who do you trust more re: your child's education — Idaho teachers or Idaho politicians?
The referendum on Students Comes First will take place on the date of the general election, the first Tuesday of November, 2012. Word on the street is that John Foster has been tapped to lead the political efforts for
Republicans against the initiatives, and in favor of leaving intact the draconian education reform legislation. John Foster is the former executive director of the Idaho Democratic Party. Foster is most notorious for his role as a staffer for Idaho's blue dog Congressman Walt Minnick, and leading Minnick's 2010 re-election campaign to an ignoble defeat. Since then, Foster has headed the office for a lobbying group./Sisyphus, 43rd State Blues. More here.
On Wednesday, the critics of the Students Come First education overhaul got what they wanted. And the plan's stealth architect, State Superintendent Tom Luna, got what he deserved. Opponents said they have collected the 47,432 voter signatures necessary to put the three laws on the November 2012 ballot. The apparent success of the referendum drive — nearly two weeks before the deadline — illustrates that the Students Come First furor didn't subside when the Legislature left town in April. Both the content and the process remain controversial/Kevin Richert, Idaho Statesman. More here.
Question: On Thursday, GOP Chairman Norm Semanko issued a press release that basically said he wasn't surprised that opponents of Superintendent Tom Luna's reforms were able to collect enough signatures to get three referendums on the 2012 ballot. Do you believe the Idaho GOP is unconcerned about the referendums?