Everything tagged
Latest from The Spokesman-Review
Don Sausser answered the SOS from HucksOnline this AM by taking his trusty camera to the corner of 6th & Sherman for this photo of "Art & Soul" by Jason Sanchez, the new public arts piece that replaces controversial Ganesha in downtown Coeur d'Alene.
Ganesha, the controversial sculpture by Spokane artist Rick Davis of an Indian deity, has vacated its yearlong spot at Sixth and Sherman in Coeur d'Alene. On Friday, the elephant-headed idol gave way to a futuristic sculpture by local artist Jason Sanchez, called "Art and Soul," heralding a new rotation of downtown public art. In June 2011, a few Kootenai County protesters greeted the dedication of Ganesha and 13 other pieces of public art but failed to coax churches to oppose the statue. News of the protest reached as far as India. The furor died down quickly. At the time, Democrat David Larsen quipped to former state Sen. Mary Lou Reed that the demonstrators were really partisan Republicans who objected to Hindus stealing their mascot/DFO, Huckleberries Online. More here. (SR file photo)
Question: Which public arts sculpture would you rather have on the corner of 6th & Sherman — Ganesha, Art & Soul, or neither?
Artist Rick Davis left the following comment on the Dogwalk Musings blog re: why he designed the controversial Ganesha public art work that will be on display in downtown Coeur d'Alene for the next year: "The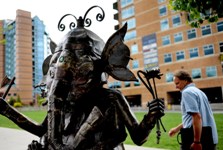 reason I originally chose to do this piece was at the suggestion of my Yoga teacher. But as the project progressed, and I did more research into Ganesha, the themes that surround him seemed to be unfolding in my life. So he became a 3 1/2 year teaching/learning moment for me." Adds Dogwalk Musings: "Art, no matter what form it takes, is probably the most subjective commodity in the world. We either like what we see or we don't. As with this month's Art Walk. What shouldn't be forgotten, however, in viewing the finished product, there is a process behind it. As Mr. Davis points out, his piece became a teaching/learning moment. Certainly nothing sinister nor intended to offend." More here. (SR file photo/Kathy Plonka, of Ganesha)
Question: Do you support public art? Or do you consider it to be a waste of money?