Everything tagged
Latest from The Spokesman-Review
With all the road construction going on around the state right now, don't worry about it causing traffic tie-ups over the Labor Day holiday weekend - ITD has announced that all its highway construction projects will be suspended for the holiday weekend, excepting only those that don't affect traffic or those responding to emergencies like flooding. "The contractor, like anybody else, has very little interest in working over the holiday," said ITD Chief Engineer Tom Cole. "Most would probably take these days off, even if they were not required to keep the road open to travelers." Click below for ITD's full announcement.
Construction work on Interstate 90 through Post Falls begins today and could cause traffic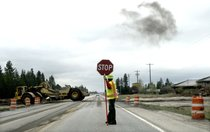 delays until work is completed in mid-June. Workers will be repairing freeway bridges over the Spokane River, Pleasant View Road and Spokane Street. Traffic will be reduced to one lane in each direction today through May 3 from 8 p.m. to 5 a.m. The reduced lanes will involve the entire 4.4-mile stretch between the river and Spokane Street. Starting on May 4, the lane closures will run all day and continue for about a month, said Barbara Babic, public involvement coordinator for the Idaho Transportation Department/Mike Prager, SR Getting There. More here.
Question: How do you pass the time while stuck in traffic as the result of road work?
Are you worried about how the upcoming Fourth Street repairs will affect you or the businesses you frequent?
http://www.spokesman.com/stories/2009/may/21/cda-businesses-prepare-street-work/