Everything tagged
Latest from The Spokesman-Review
I couldn't help but experience a phantom twinge when I heard that Dr. Robert West was including me in a book he's writing about his many years as a deputy coroner and the coroner for Kootenai County.
Dr. West did give me a vasectomy, after all.
Not as a coroner, fortunately. The Harvard-trained MD and vascular surgeon had a well-established private practice in Coeur d'Alene, too.
I only bring up my misery to show how the man had his hands in, well, a lot of sensitive arenas during his long and respected career.
West is 78 now. He retired as coroner in 2011 and stepped away from his private practice about eight years prior to that .
During a phone call the other day, the good doctor assured me that he was intending to quote from one of my columns and not from my medical charts.
Whew.
So why would a county coroner write his memoirs? Doug Clark, SR
Do you enjoy reading memoirs? Got a favorite?
Long-time Coroner Robert West explains to SReporter Alison Boggs why he decided to endorse Deputy Coroner Debbie Wilkey for his job: "Three months ago, I would have chosen to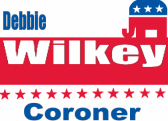 stay completely out of it. But my feeling is that the coroner's job is a 'full-time, boots on the ground' requirement. You've got to be committed to getting up at 2 o'clock in the morning and driving to wherever it is – Plummer or Harrison or Athol. That requires a lot of commitment and it also requires people that have demonstrated working relationships with law enforcement and with funeral homes and with the public. You can't run the coroner's office from your desk and you can't run it from home. I'm not law enforcement and I'm not the prosecutor. It's my job to speak for the deceased, the victims, and the only way you can do that is if you're willing to get out of bed. You have to be there. It's not something that will wait until 8 o'clock the next morning." Full comment here.
Question: Should Coroner Robert West have stay completely out of this race? Or do you appreciate his endorsement? Does it influence you?