Everything tagged
Latest from The Spokesman-Review
Pope John Paul II will move one step closer to sainthood when he is beatified during an elaborate Vatican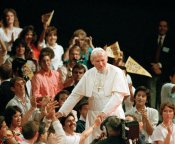 ceremony on Sunday. While the Roman Catholic Church has held up heroes, patrons, intercessors and spiritual companions for centuries, the path to sainthood is never easy or quick. "The lives of the saints show us that God makes holiness out of all sorts of different materials," said the Rev. James Martin, a Jesuit priest and author of My Life with the Saints. While many religious traditions honor people who are considered especially holy, the Catholic Church has a uniquely complex system for declaring someone a saint. The multi-step canonization process has evolved since the 13th century/Kim Lawton, USA Today. More here. (AP file photo of Pope John Paul II in Los Angeles in September 1987)
Question: Is Pope John Paul II the right type of a person who should be made a saint?
Item: Post Falls priest priest has been on leave three times: William R. Gould's leaves stemmed from sexual conduct allegations/Bill Roberts, Idaho Statesman
More Info: Besides the most recent leave, Gould requested leave in 2005 after questions of sexual misconduct arose involving an adult, according to a Statesman story at the time. The allegation was substantiated, church officials said. Gould was returned to the church in Post Falls in 2006, according to diocese officials. Gould also was placed on leave in 1989 after an allegation involving an adult while he was at Twin Falls. Tod Brown, Idaho bishop in 1989, placed Gould on administrative leave and sent him to a treatment facility, according to a statement from the diocese.
Question: It seems to me that the Catholic Church should have a one-strike-and-you're out policy with priests involved in sexual misconduct. What do you think?