Everything tagged
Latest from The Spokesman-Review
As a new substitute school teacher in Post Falls this year, Aspen Elbin figured it would be at least October before she would be called to a classroom. But she went to work much sooner. Just a few weeks into the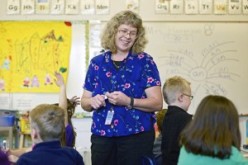 school year, Elbin has already put in a few days at Frederick Post Kindercenter and has some days lined up at Mullan Trail Elementary. "I'm happy to have the opportunities so early," said Elbin, a substitute in the Kamiah and Kooskia districts before her family moved here. School districts still rely heavily on subs, but their budgets for teacher sub costs have declined in recent years like most other budgeted items. … Tom Taggart, Lakeland's finance director, attributed that district's budget decrease to a lower number of regular teachers in recent years resulting from attendance declines/Brian Walker, Coeur d'Alene Press. More here. (Jerome A. Pollos' Coeur d'Alene Press photo: Patsy Hargrave, a substitute teacher, helps students during a first-grade reading class Thursday at Sorensen Magnet School in Coeur d'Alene)
Question: Do you think that the job of a substitute teacher is a tough one?
Item: KTEC levy voting takes place today: Polls open from 8 a.m. to 8 p.m. in Lakeland, Post Falls, Coeur d'Alene/Coeur d'Alene Press
More Info: Polls are open today from 8 a.m. until 8 p.m. in the Coeur d'Alene, Post Falls and Lakeland school districts. Voters in each of the three districts are being asked to approve a share of the financing to build a $9.5 million, 50,000-square-foot professional-technical high school. The building will be situated on land, already secured at no cost to taxpayers, on the Rathdrum Prairie, and will serve students from the three districts.
Question: Do you plan to vote today?
Voters in nine Spokane area school districts and the city of Spokane have tax measures they are being asked to cast ballots on by Tuesday evening.
Most Spokane city voters have four measures on their ballot. The Spokane School District, which covers much of the city and spills outside its borders in some areas, is asking voters to renew a maintenance and operations levy and approve a $288 million bond issue to pay for the next phase of a school renovation program. The city has an $18.5 million bond issue to handle several criminal justice projects, including a new evidence warehouse, animal control facilities and municipal courts.
The Cheney, Deer Park, Liberty, Mead, Medical Lake, Nine Mile Falls and Riverside school districts also have levy renewals. Reardan-Edwall has a capital projects levy, and the town of Rosalia has a park and recreation levy.
Ballots that are mailed must be postmarked by Tuesday. They can also be deposited, minus a stamp, in a drop box set up by the County Elections office at most public libraries.
Drop box locations are inside the blog: