Everything tagged
Latest from The Spokesman-Review
Many years ago, I profiled several centenarians and asked a gerontologist the secret to living to 100.
He said: "Choose your parents. Wear a seatbelt." In other words, genetics and safety.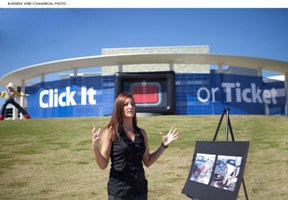 This week, the CDC released figures on seat belt use in the United States for 2009, the most recent data year.
The agency reported that "using a seat belt is one of the most effective means of preventing serious injury or death in the event of a crash. Seat belts saved an estimated 12,713 lives in 2009, but almost 4,000 additional lives could have been saved if every occupant had been buckled up."
Which leads me to today's question: Do you want to live to 100?
(AP file photo of a Waco High School student whose life was saved by a seat belt)
Two Spokane Valley police officers stopped for a roadside chat caught a burglary suspect after watching him pilfer a storage building early today, officials say.
Jeffery Allan Heatwole, 44, told police his seat belt was broken and refused to get out of his 1984 Datsun when they stopped him a few minutes after 1 a.m., so Officer Justin Elliot cut the belt strap and removed him from the car, according to the Spokane Valley Police Department.
Elliott and Officer Ryan Walter were parked on Spear Road east of Park Road when they spotted the Datsun pull into a secluded part of the Triple R Auction.
The driver walked out of sight and returned about six minutes later carrying items and looking around suspiciously, police said. He made a second trip, then pulled out of the lot on North Park Road.
The officers stopped the Datsun and arrested Heatwole. Inside the Datsun were items stolen from Triple R, including a chainsaw, a dome tent, a pair of fluorescent light fixtures and a green bag containing racquetball equipment, a Sony VCR, air hose and a small shop light.
Police say Heatwole disassembled metal door brackets to enter the building. His footprints were found at the scene, officers say.
Starting on Monday, more than 50 Idaho law enforcement agencies will launch a 14-day crackdown on seat belt usage, a push that will extend through the Memorial Day weekend. According to the Idaho Transportation Department, 105 Idahoans who weren't wearing their seat belts were killed last year in crashes on the state's roads. Idaho law requires restraints - seat belts for adults, child safety seats for young children - for all drivers and passengers in vehicles. Fines for violating Idaho's safety restraint laws range from $10 to $69.

"Wearing your seat belt costs nothing and yet it's the single most effective traffic safety device ever invented," said Mary Hunter, ITD highway safety manager.  "Failing to wear a seat belt puts you at risk for serious injury or death. Two-thirds of motor vehicle occupants killed in Idaho traffic crashes last year were unbelted.  According to seat belt effectiveness studies by the National Highway Traffic Safety Administration (NHTSA), half of these victims could be alive today had they simply buckled up."