Everything tagged
Latest from The Spokesman-Review
Now that it has picked a fight with BMW, Cadillac has to put up or shut up.
As a taxpaying GM shareholder, I'm pleased to report it's putting up.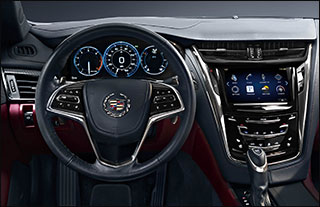 Cadillac recently debuted the third-generation of its CTS midsize luxury sport sedan. It debuted in 2002 as a BMW fighter and has been in a state of evolution ever since.
The 2014 CTS ($46,025, including destination) is new from the ground up and presents the most convincing evidence yet that Cadillac is prepared to back up its bluster. The CTS is larger than its predecessor, or about the same size as BMW's 5 Series. Its cabin grows in refinement and its infotainment and safety systems are more capable. A new platform and longer wheelbase boost ride and handling.
Two new engine choices — one thrifty, the other sporty — expand the CTS's mission.
On the outside, Cadillac's edgy Art & Science design language softens into a more organic — though no less bold — state. The CTS is longer by four inches and slightly shorter and wider. The grille, with the familiar Caddy crest front and center, is flanked by projection headlights, LED running lights and a pair of massive lower-grille intakes.
Counterintuitively, the new midsize rides on a platform developed for the compact ATS. It's stiff and strong and is 200 pounds lighter than the one it replaces.
I haven't tested the CTS's base suspension, but by all accounts it's a good one. The CTS is balanced, with 50 percent of its weight up front and 50 percent in back. Its steering is quick, accurate and communicative. Unwanted body motions are well modulated.
My test car added the available Magnetic Ride Control (MRC) system. MRC is a remarkable suspension damping system that produces an ideal — almost unreal — blend of ride comfort and tire grip.

The new base engine is a 220-hp turbocharged four (20 city/30 highway) that's mated to a six-speed automatic transmission. Also new is a twin-turbocharged six that makes 420 hp and powers a new Vsport trim (17/25), which will compete with BMW's 550i.
They flank the 321-hp 3.6-liter V-6 (18/29) that carries over from last year.
A new eight-speed automatic transmission is tuned to make aggressive shifts under acceleration but in normal conditions seeks the most efficient — i.e., fuel-sipping — gear.
All trims but the rear-drive Vsport are available in FWD and AWD configurations.

Inside, all but the base trim are finished in leather. Other materials — the wood, carbon fiber and aluminum — are the genuine item. Premium, hand-sewn, semi-aniline leather seating is available.
Despite its outward growth, the CTS's interior dimensions remain largely unchanged. Tall passengers may run short on rear-seat legroom; otherwise the cabin is comfy for four.
Cadillac's CUE (Cadillac User Experience) solidifies my distaste for touchscreen-based navigation and infotainment systems. CUE's capabilities are vast but in operation it's clumsy and distracting.
For Cadillac, success doesn't hinge on outselling BMW. It's almost enough to be considered worthy competition, and you'll get no argument from here on that score.
Don Adair is a Spokane-based freelance writer. Contact him at don@dadair.com.
2014 Cadillac CTS Premium Collection
Vehicle base price: $45,100
Trim level base price: $64,500
As tested: $67,170
Optional equipment on our up-level Premium Collection tester included Black Diamond tricoat paint and 18-inch polished aluminum wheels.
EPA ratings: 18 city/29 highway
Regular unleaded fuel specified
For 2013, Toyota set out not to merely update the full-size Avalon; instead, it gave its underachieving flagship a personality transplant.
For the first 12 years of its existence, the Avalon lacked focus and, consequently, a true identity. It was the Toyota of choice for owners seeking Toyota reliability and Lexus comforts but who, for whatever reason, preferred not to move up to Lexus.
The new Avalon erases that past. Shunning its Lexus-lite ID, it has become a car that's meant to be driven and not merely piloted.
Sharp reflexes replace previous vagaries. Handling is crisp, steering is quick and accurate. The ride is firm — while remaining supple and compliant — and unwanted body motions are eased into retirement.
Speaking of which, Toyota aims the new Avalon at a younger set of buyers. Today's average buyer is 65; Toyota is shooting for 55.
To this purpose, designers re-skinned the Avalon. Exterior dimensions are tighter and styling is crisper and more dynamic. A strong, lifting shoulder line flows from the front fender to the short decklid, where it meets up with a tapering roofline.
Toyota is especially proud of the front fascia, where a whisper-thin grille floats above a protuberant and oversized lower air intake. The look may not be entirely cohesive but at least we can no longer accuse Toyota of not trying.
In the transition from boulevard cruiser to something more engaging, the Avalon has lost 160 pounds and gained stiffness; chassis rigidity is up 16 percent, reducing body flex and allowing suspension engineers to strike a balance between ride firmness and compliance.
Toyota has spared little expense to elevate the Avalon's cabin to the highest standards of the near-luxury class — and, perhaps, beyond. Hand-stitched leather (available in two grades) covers the seats, while a soft-touch, hand-stitched material wraps the sculpted, bi-level dash. Smoked-chrome accents and glossy panel pieces add subtle flash.
A variable-rate window motor powers the windows, slowing them near the top of their travel to reduce wind noise and, says Toyota, "add refinement."
Despite its trimmer dimensions, Avalon's interior and trunk have grown more spacious. There is, of course, almost no end to available cabin technology.
Two powertrains are available, a conventional V-6, and a hybrid.
A 268-horsepower, 3.5-liter V-6, paired with a three-mode six-speed automatic, powers conventional models. Tuned for efficiency, the gearbox delivers smooth, no-rush shifts that always land the engine in the heart of its power band. In Sport mode, the gearbox matches engine revs on downshifts, an unexpected bit of sport geekery. Toyota claims sub-7-second Zero-to-60 times and a best-in-class efficiency ratings of 21 mpg city/31 mpg highway.
Running the latest version of Toyota's Hybrid Synergy Drive system, the Avalon Hybrid produces a seamless hybrid experience, while delivering 39 mpg city/40 mpg highway.
More good news: Avalon's base price ($31,750, including destination) drops $1,445. Hybrids, which are available in premium trims only, start at $36,315.
Under new CEO Akido Toyoda, Toyota and Lexus are redefining themselves. "Toyota's back and we're going to be swinging for the fences again," one exec said at the Avalon launch.
Welcome back.
2013 Toyota Avalon
Various conventional and hybrid models reviewed
Price range: $31,750-42,160
V-6 fuel efficiency: 21 city/31 highway
Hybrid fuel efficiency: 40 city/39 highway
Regular unleaded fuel specified