Everything tagged
Latest from The Spokesman-Review
State rules say that businesses or local governments cannot generally transfer or dispose of unclaimed property — including most gift cards and the contents of safe deposit boxes.
Washington's Department of Revenue will host two Spokane workshops to summarize the rules and the obligations faced both by businesses and government agencies.
The workshop for businesses runs 9 a.m.-noon on June 13; a second business workshop just for financial institutions runs 1 p.m.-4 p.m. on June 13; the local government workshop will be 9 a.m.- noon on June 14.
The list of unclaimed stuff includes: paychecks, utility deposits, bank accounts, refunds, life insurance proceeds, stocks and bonds and contents of safe deposit boxes.
Businesses have to report unclaimed property after losing contact with owners for an extended period, generally three years.
.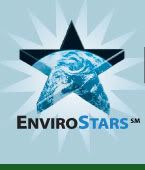 Exciting news: Our friends at the Spokane River Forum have a new project aimed at certifying small businesses reducing hazardous waste and protecting the environment called EnviroStars. The official launch will take place during Pollution Prevention Week, September 20th through the 26th. Tonilee Hanson says nine businesses in Spokane have already received the EnviroStars with many more in various stages of preparation for certification.  You can learn more about the project during the Spokane Interstate Fair at the Go Green Exhibit, beginning September 10th.



Check it out: http://envirostars.org/

ENVIROSTARS SPOKANE PROGRAM LAUNCHES DURING
POLLUTION PREVENTION WEEK, SEPT. 20-26, 2010
      SPOKANE—The successful EnvioStars program in the Puget Sound area is now available to Spokane County businesses.  EnviroStars is a voluntary program that certifies small businesses that have practices and policies in place that reduce hazardous waste and protect the environment.  
      A unique partnership between government agencies and non-profits started in May 2010 to bring EnviroStars to Spokane County.  Businesses certified by EnviroStars receive public recognition and advertising.  
      In support of National Pollution Prevention Week, Sept. 20-26, EnviroStars is highlighting the first round of EnviroStars certified businesses.  The following certified businesses make pollution prevention happen every day, by reducing their hazardous wastes as well as reducing emissions into the air, aquifer, lakes and creeks and runoff from city streets. ):
"Mr. Minnick, a successful businessman for 30 years, is among the most conservative Democrats in Congress. He began his political career, in fact, as an official in the Nixon administration — and resigned the Sunday after Attorney General Elliot Richardson, for whom he was informally working, was fired in what became known as the Saturday Night Massacre. Six months later, Mr. Minnick found a job at Trus Joist, a $30 million forest-products company in Boise.
By the time he left 21 years later, including 16 as the company's president, revenue had grown to $700 million. After an unsuccessful run in 1996 for the Senate — as a Democrat — he considered returning to the corporate world, but "I realized I liked Trus Joist a whole lot better when it was a $70 million company than when it was 10 times that size, and bureaucratic." Instead he started his own business, buying and building a chain of high-end nurseries. He spent nearly a year working at the stores learning every job. "For me, that was the key thing, learning the business in a rather unusual way," said Mr. Minnick." Robb Mandelbaum, NYT Full story.
H/T Mike K.
Thoughts?