Everything tagged
Latest from The Spokesman-Review
Liberty Lake-based Itron, Inc. announced recently it's developing and selling energy meters for the solar market.
This is an annoucement altogether focused on the growing number of third-party companies that are producing solar power systems for residential or commercial buildings.
In that light, what Itron is proposing is a specific solar meter that identifies how much solar power goes into the local property, and how much of it is used.
From the Itron release:
The revenue-grade solar meter, which utilizes an Itron cellular communication module, is ideal for monitoring the energy production of residential and commercial solar photovoltaic (PV) systems.
The availability of third-party-owned residential solar systems has driven rapid growth in the solar market. Itron's solar offering takes advantage of this growth by enabling third-party solar providers to collect, store and upload a solar system's production data over an existing cellular network link.
With developments in renewable energy increasing, so does the need to effectively monitor and manage the integration of these energy resources into the electrical grid. Itron's solar offering gives solar providers an accurate, reliable way to measure and manage solar production data with a secure, low-cost communication network for data collection.
"Cellular is a natural fit for the solar market," said Campbell McCool, marketing communications for Itron Cellular Solutions. "Cellular communications leverage existing infrastructure, making solar meters easy and affordable to connect, and can easily and cost-effectively scale as more solar resources are added in various locations. In addition, increasingly low rates make cellular an appealing option for solar providers.
When Anne Nesse decided to utilize the sun's power and switch out traditional heat sources for her Coeur d'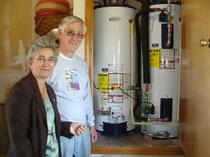 Alene home, she was shocked to find that the failing furnace could lead to a substantial savings. "We researched different kinds of renewable energy sources and were pleased with solar tubes' results," says Anne, an energetic retiree who is currently running for state representative for Idaho District 4B, where she says that she likes to lead by example. She and her husband, Rolf, were also surprised to find that theirs would be Coeur d'Alene's first home to be fitted with solar tubes. It all started last year when the Nesses sought a renewable heat source for their 2,400-square-foot home, which they built in 1994. Anne found a type of solar tube that worked well in a colder northwest climate/Jean Arthur, SR Down to Earth. More here.
DFO: For those keeping score at home, Anne Nesse is the Democrat running against state Rep. Kathy Sims, R-OpenCDA.com, in Coeur d'Alene's House District 4.
Question: Do you live in an energy efficient house?
A northern Idaho company that aims to transform U.S. highways into a vast, energy-producing network is getting $750,000 from the federal government for the next phase of its project: a solar parking lot, the Associated Press reports. Solar Roadways of Sagle has received a Small Business Innovcation Research grant from the Federal Highway Administration. Click below for a full report from AP reporter John Miller.