Everything tagged
Latest from The Spokesman-Review
Sen. Patty Murray is backing Sonia Sotomayor for the U.S. Supreme Court. That comes as no surprise, considering Murray is a Democrat, and all the Ds are backing Obama's first court pick.
And considering that Murray has made no secret of her general support for the appeals court judge.
This morning, however, she took to the floor of the Senate to memorialize that support. Want to read her speech? It's inside the blog.
U.S. Supreme Court nominee Sonia Sotomayor said Wednesday that her controversial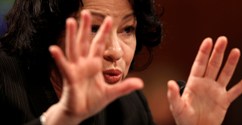 statement that a "wise Latina" could reach a better decision than a white man was a poorly expressed but valid point about the value of differing perspectives in applying the law. Sonia Sotomayor answers questions from senators on Wednesday, the third day of her confirmation hearings. Under questioning from Republican Sen. John Cornyn of Texas on the third day of her Senate Judiciary Committee confirmation hearing, Sotomayor said the remark she made in several past speeches was never intended to mean that one gender, ethnic or racial group was better than another. "It is clear from the attention that my words have gotten and the manner in which it has been understood by some people that my words failed," Sotomayor said. "They didn't work"/CNN. More here.
Question: What do you make of the hubbub surrounding Sotomayor's 'wise Latina' statement?
And so it was asked, via Twitter, "What does Appeals Court Judge Sonia Sotomayor's nomination to the Supreme Court mean for the environment?"
In 2007, Sotomayor wrote an opinion in an environmental case that pinned the EPA against Riverkeeper - she sided with Riverkeeper (the case was eventually overturned by the Supreme Court).  At issue was "a rules change in the EPA which sought to make power companies upgrade their plants to protect the environment regardless of cost." The case was appealed in 2009, an appeal, "aimed at reinstating Bush-era rules that allowed power companies to do cost-benefit analysis before certain upgrades," as reported by the Wall Street Journal in early April of this year. 
In her opinion, Sotomayor said:
"The Agency is therefore precluded from undertaking such cost-benefit analysis because the [best technology available] standard represents Congress's conclusion that the costs imposed on industry in adopting the best cooling water intake structure technology available (i.e., the best-performing technology that can be reasonably borne by the industry) are worth the benefits in reducing adverse environmental impacts."
The Wonk Room applauds the President's pick on its environmental merit HERE.
While the Green Hell Blog calls her an environmental extremist HERE (good for a laugh). 
We'll keep our eyes open for any more stories on Sotomayor and what her nomination means for the environment