Everything tagged
Latest from The Spokesman-Review
On a 5-1 vote Tuesday, with Councilman Dan Gookin dissenting, the Coeur d'Alene City Council supported possible location of a West Coast League team at Cherry Hill Park. Here's a draft of that discussion:
"Councilman Kennedy introduced the item as discussed at the General Services Committee meeting. Councilman Kennedy explained that the General Services Committee is recommending City Council endorse the concept of allowing a West Coast Collegiate Team to locate in Coeur d'Alene in 2014 as the anchor tenant for the Cherry Hill Sports Complex. Henoted from the staff report that the Parks Department and other interested baseball enthusiasts have been proposing a new baseball field in Coeur d'Alene for approximately 12 years.Councilman Kennedy said the request is to adopt the concept of bringing a West Coast League Team to Coeur d'Alene. Fee structures, management, and uses would be worked out over the next several months including routine maintenance and capital improvements. The estimated cost of the facility is $2,700,000 and those funds are being raised privately. The Panhandle Parks Foundation is taking on the fund raising and all funds are going to that organization."
Question: I'm trying to figure out why Gookin would oppose a project like this when the money is going to be raised privately. What do you think?
They call it the Field of Dreams, but backers of a proposed $2.7 million ballpark in east Coeur d'Alene hope to move it closer to reality in the next year. On Tuesday they pitched the concept to the city's Parks Commission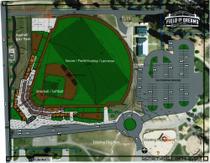 with an endorsement from Bobby Brett, owner of the Spokane Indians and Spokane Chiefs. "If you have nice facilities, people will go and spend their entertainment dollars there," Brett told commissioners. Supporters want the city to build the facility at Cherry Hill Park using private donations, then own and operate it for baseball and other uses. Irv Zakheim, owner of the Spokane RiverHawks collegiate summer league club, wants to move his team to the new ballpark and resume play in the West Coast League for the 2014 wood-bat season. "Coeur d'Alene is a perfect city for the West Coast League," Zakheim said. "Spokane's too big of a town. It also has the Indians (that) we can't compete with"/Scott Maben, SR. More here. (MillerStauffer Architects concept drawing of possible baseball diamond at Cherry Hill)
Question: What would be a good name for the proposed West Coast League team in Coeur d'Alene?