Everything tagged
Latest from The Spokesman-Review
FISHING — Todd Young of Spokane used PowerBait to catch this 27-inch rainbow weighing 6.8 pounds at Sprague Lake on Saturday.
Had Young caught the fish one week earlier, he would have easily won $500 in prizes offered for the biggest fish in the Sprague Lake Trout Derby, reports Scott Haugen at Four Seasons Campground and Resort.
The 202 anglers entered in the derby weighed in a bunch of fish in the 4-pound range, and the three top fish were separated by only 1 ounce, with the winner coming in at 4 pounds 9 ounces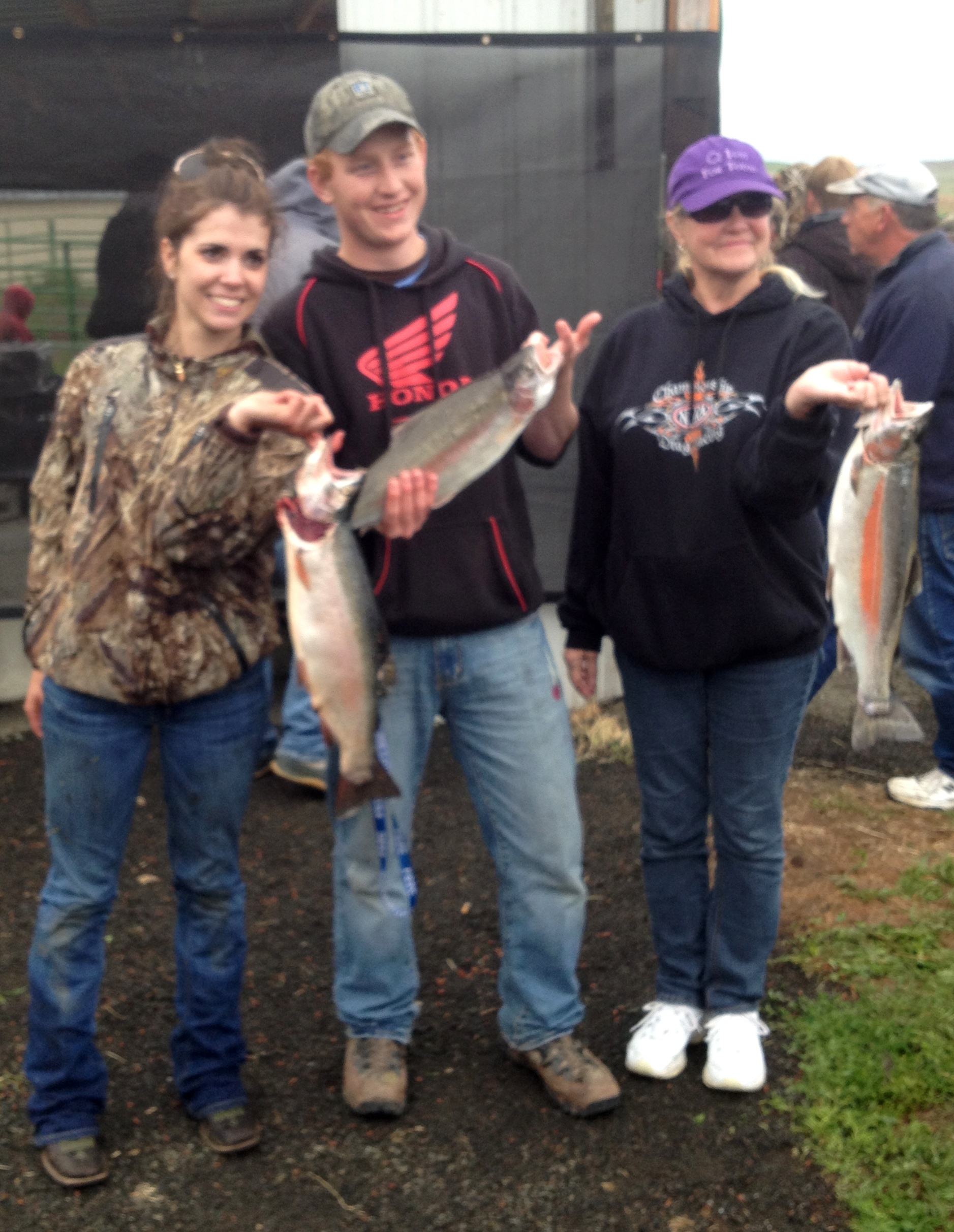 FISHING — A mere ounce separated the top three rainbows caught Saturday in the first Sprague Lake Trout Derby.
Despite a nasty day of wind and rain, 202 anglers participated. Many anglers went home with fish, but the one with the largest trout also bagged prizes and gift cards totaling $500.
While KHQ TV weatherman Dave Law didn't win, he should at least get a prize for knowing how to present a 4-pound 5-ounce rainbow to the camera (above).
Meanwhile, the winners are pictured at left:
Clinton Hartman of Lamont, Wash., was the winner with a rainbow trout that weighed 4 pounds 9 ounces and measuring 21 1/2 inches long.
The runnerup was Marrissa Young (left) of Cheney, winning $100 in prizes with a trout measuring 22 inches long and weighing 4 pounds 8 1/2 ounces.
Victoria Huston of Coeur d' Alene (right) came in third and $50 in prizes with a 22 3/4-inch long rainbow that weighed 4 pounds 8 ounces.
"We weighed in a lot of fish in the 4-pound range," said Dave Broxson, derby organizer with the Sprague Lake User Group.
The wind was so bad on the 1,840-acre lake, the Sheriff's marine patrol pulled off the water at noon because they couldn't make any contacts with boaters on the lake, said Scott Haugen at Four Season's Campground Resort.
"But people just kept fishing," he said, noting that he snapped Law's photo as the weatherman tied up his boat briefly at the resort docks as he fished up the lake. "Most of the rainbows were in the 3- to 4-pound range. I weighed in one over 5 pounds before the derby. I also had a fisherman who caught a largemouth bass over 17 inches long."
"We had a wonderful turnout and hope it can get better next year," Broxson said.
FISHING — A prize totaling $500 awaits the angler who catches the biggest trout Saturday (June 9) during the first Sprague Lake Trout Derby.
Fishermen have boated some huge rainbows out of the 1,840-acre lake since it was rehabilitated in 2007. The derby gives them a chance to cash in on their luck.
It's scheduled for Washington's Free Fishing Weekend, so NO FISHING LICENSE IS REQUIRED.
And don't forget to fuel up at the Fishermen's Breakfast by the Sprague Volunteer Fire Department (details below).
Bonus: Nine rainbows were tagged and released in Sprague Lake in March as part of Cabela's "Wanna Catch a Million" fishing contest. Most of the bass state biologists caught while electroshocking to caputre the fish for tagging were in the no-kill slot size. So they chose to put all the tags allotted for Sprague Lake into rainbows.
All Sprague Lake Trout Derby participants will be eligible for prize drawings, and kids especially will have a chance to win fishing rods, said Dave Broxson, co-organizer.
The angler weighing in the second largest fish caught between 6 a.m. and the 6 p.m. weigh-in will win $100 in gift cards and merchandise provided by Cabela's and Wholesale Sports.
Third place gets goodies totaling $50.
Tickets will be available the day of the derby at the two resorts on the lake:
The Main Derby Station and weigh-in site will be situated just outside Sprague Lake Resort.
Both resorts offer camping, boat rentals, boat launching, docks and tackle.
To participate, anglers must purchase a derby ticket, $7 for adults, $5 for youths 16 and under.
Read on for more details about the derby and the Fishermen's Breakfast.