Everything tagged
Latest from The Spokesman-Review
Milo, a 6-year-old Jack Russell terrier, took an unexpected ride last week, apparently in a thief's getaway car.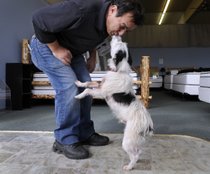 The dog's owner, Paul Defazio, said someone stole items from his barn last Thursday. Defazio suspects either the thieves stole Milo, or that Milo unwittingly jumped in the vehicle hoping for a joyride. His joyride came to an abrupt end later that day when he was thrown from the driver-side door of an older, red pickup truck with no license plates, at 60-plus mph on Highway 195 near Washington Road. Stephanie Dunn, 21, of Spokane Valley, was behind the truck and watched in horror as Milo was chucked out the window. "In all honesty, I was almost hysterical," said Dunn, a self-described animal lover. "I was just in shock"/Chelsea Bannach, SR. More here. (SR photo: Dan Pelle)
Question: On a scale of 1 to 10 (with 10 being the highest regard), how much of an animal lover are you?