Everything tagged
Latest from The Spokesman-Review
KPerry: (RE: Latest on Powell murder-suicide): When I saw the information on the "chopping injuries" in the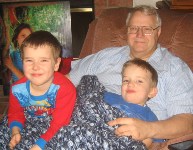 news yesterday it made me wonder if we really needed that bit of information. It doesn't change that they are dead. It doesn't change that he had them in the house for a horror filled three minutes before the explosion. It just puts evil visions in our minds eyes. Sometimes I just wish we didn't live in an age where every single gory detail has to hit the news so the newspapers and TV stations could get ratings. Those boys and their mother are in God's arms. Peace be with them. (Courtesy photo: Chuck Cox sits with his grandsons, Charlie, left, and Braden, right, at the Coxes home in Pullayup, Wash.)
Question: Is it the media's responsibility to withhold information in a case like this that may be too graphic?
Chuck Cox plays with his grandsons, Charlie, right, and Braden, left. Charlie and Braden were killed along with their father, Josh Powell, on Sunday in what police said was an intentional fire set by Powell. Chuck Cox is the father of Powell's wife, Susan, who has been missing since 2009. Deseret News story here. (AP Photo/Courtesy Chuck and Judy Cox)
Question: Now, when I hear on the Police Scanner, of the brutal way men treat their wives, girlfriends, and children, I wonder if there's another Josh Powell among them — an egomaniac that didn't have the decency simply to kill himself and leave his family alone. What do you think?
The maternal grandparents of Josh Powell's two sons say the boys were playing happily Sunday and didn't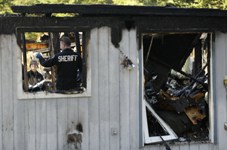 want to visit their father. Charles and Judy Cox tell KIRO-TV that the grandmother talked them into a supervised child custody visit with their father. When the boys arrived at Powell's Washington state home, their father barred a social worker from entering and then lit the house on fire. All three died. Charlie and Braden Powell shared a bedroom in the Cox's Puyallup (Pyoo-AL'-up) home since last fall, when they were removed from their father's custody. The Coxes are parents of Susan Powell, who has been missing since 2009. Josh Powell was a person of interest in her disappearance in Utah/Associated Press. More here. (AP photo: Fire investigators take measurements as they work their way through charred rubble at the home where Josh Powell and his two sons were killed Sunday, in Graham, Wash.)
Reaction?