Everything tagged
Latest from The Spokesman-Review
WILDLIFE ENCOUNTERS — Trail ride wrangler Erin Bolster and her famous steed, Tonk, were greeting fans at the Western Montana Fair in Missoula last week to celebrate the 1st anniversary of their heroic encounter with a grizzly bear.
Bolster and Tonk rode into the national spotlight after repeatedly charging a grizzly that had burst into a trail ride Bolster was leading near Glacier National Park. As the bear chased a horse carrying a terrified 8-year-old boy through the timber, Bolster was able to get Tonk to overcome fleeing instincts and charge the grizzly into submission.
My story about the encounter last summer swept across the nation and landed Bolster — Tonk, too! — in New York for Late Night with David Letterman.
Bolster said she's met a lot of people and had many career opportunities because of the favorable response to the fame she and Tonk have garnered.
This summer, however, she's been living mostly in a tent near the Flathead National Forest, leading trail rides for the flood of people young and old who've booked trips in anticipation of touching the horse flesh of a hero.
Grizzlies are high profile this year. A lingering winter and late berry crop kept bears in proximity to humans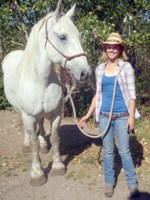 longer than normal, perhaps contributing to a stream of headlines about grizzlies killing people and people killing grizzlies. Meanwhile, a young lady on a big horse charged out of the pack of grizzly stories near Glacier National Park. In a cloud of dust, the 25-year-old wrangler likely saved a boy's life while demonstrating that skill, quick-thinking and guts sometimes are the best weapons against a head-on charging grizzly. On July 30, Erin Bolster of Swan Mountain Outfitters was guiding eight clients on a horse ride on the Flathead National Forest between West Glacier and Hungry Horse, Mont./Rich Landers, SR. More here. (Courtesy photo: Erin Bolster, a wrangler for Swan Mountain Outfitters near Glacier Park, poses with her horse, Tonk.)
Question: Do you hike, camp, or trail ride much in grizzly country? What do you take along to protect yourself?