Everything tagged
Latest from The Spokesman-Review
On its Facebook wall, Syringa Japanese Restaurant & Sushi Bar, on 4th Street, tells of a disagreement with a customer over a Happy Meal. Seems the customer brought a Happy Meal from McDonalds, for someone in the
party (maybe a child) and was told in no uncertain terms that the restaurant didn't allow outside food or drink. The customer then left a note on a napkin saying that Syringa was a favorite eatery but s/he wouldn't be returning. That prompted this response from ownership: "This note was left after I told a table that we don't allow outside food or drink….they brought in a Happy Meal. Yes I made a snide remark about having to throw away a little piece of garbage. Do you think it would be ok to bring Togo food from Syringa into McDonald's? We do not want to see Starbucks, Big Macs, whoppers or iced lattes in our restaurant, we would however love to see people with open minds and smiling faces." (Logo from Syringa Facebook page)
Question: Who's right or wrong here?
The Garnet Café sits in a converted house directly behind midtown Coeur d'Alene's sushi hotspot the Syringa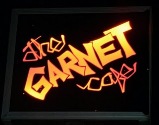 Café, and was hatched earlier this month by that restaurant's owners Viljo and Autumn Basso. I've always enjoyed Syringa for seeming like a little spot of Seattle in the middle of North Idaho, and the Garnet Café has the same hip, urban vibe. There's a dim-lit bar lined with tall wooden stools, the bandying about of phrases like "duck confit" and "house cured salmon gravlocks", and a selection of unconventional framed photos and art (our favorite was a wild painting of a gun-welding octopus)/OrangeTV, Get Out! North Idaho. More here.
DFO: Isn't that the old Papino's building?
Question: When did you last try a new restaurant in North Idaho? Can you tell us about your experience?
On Facebook, Jay Baldwin got my curiosity up with this post: "No offense to Idaho & Arkansas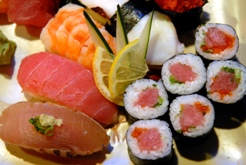 but sushi is better here in California. Much better." I asked him to expand on that comment. And he rated three sushi places in Coeur d'Alene for me: "1. Syringa on 4th is the best of the local fare. Fresh, well prepared and fairly priced. 2. Fishermman's Market is okay, a little pricey given its environment/decor, and order at the counter service; and 3. the Bonsai Bistro which is over priced and overrated. The food is average, at best." He also rated Spokane sushi eateries, ranking Raw as best, followed by Sushi.com near Riverfront Park. And: "There's also a little dive (and I mena dive) place called Suki Yaki Inn, which is surprisingly good, inexpensive, and it's ridiculously retro '70s decor is nostalgic if somewhat worn." (SR File Photo/Dan Pelle: A combo sushi plate from Suki Yaki Inn includes octopus, shrimp, tuna albacore, salmon and tuna roll and fly fish roll.)
Question: Do you eat sushi? Do you agree with Jay's rankings for Coeur d'Alene area and Spokane sushi?