Everything tagged
Latest from The Spokesman-Review
A beach area on the Upper Columbia River known as the Black Sand Beach because of an industrial byproduct discharged into the Columbia River from a metals smelting facility in Trail B.C. is scheduled to begin being cleaned up in the fall of 2010. 
But first, the public is being asked to review and comment on formal documents that will guide the removal of the black slag from the beach that sits on the eastside of the Upper Columbia, three miles south of the Canadian border and north of Northport.
*Photo from Department of Ecology site.

The documents include a draft work plan that includes what's called a "60 percent engineering design" that provides details of how the removal will take place. They also include State Environmental Policy Act (SEPA) documents ensuring that the work is beneficial to the environment. Comments will be accepted Jan. 4 through Feb. 5, 2010.

The industrial slag that gives the beach its black appearance is a byproduct discharged into the Columbia River from the Teck Metals Ltd. (formerly Teck Cominco) smelting plant.  The slag contains hazardous substances including zinc, lead, copper, arsenic, cadmium and other metals that cannot be removed from normal processing.  In a release from the Department of Ecology, they say, "some of the metals harm the health of the river and aquatic life," though no metals in the river and on the beach are good. 

A public meeting will be held at 7 p.m. on Thursday, Jan. 14, 2010, at the Northport High School, 408 10th St. in Northport. The Washington Department of Ecology (Ecology) and Teck American Inc. (Teck) in Spokane will provide an overview of the project and answer questions from the public.
In the fall of 2010, approximately 5,000 cubic yards of granulated slag will be removed and transported for recycling to Teck's Trail smelter facility. Teck has agreed to remove and recycle the slag to avoid continued erosion and movement of the material into the river.  Teck will place clean, natural fill material where contaminated sediments were removed. The new beach will contain a combination of sand, gravel, and a coarser cobble-sized material.
The public can see the documents for the slag removal at the Department of Ecology's office in Spokane at 4601 North Monroe St. by calling Kari Johnson at 509-329-3415, or on-line at http://www.ecy.wa.gov/programs/tcp/sites/blackSandBeach/blackSandBeach_hp.html. They also are available at the Northport Community Library, the Kettle Falls Public Library and the Colville Public Library.

Comments and technical Questions should go to Chuck Gruenenfelder, 509-329-3439; e-mail: chgr461@ecy.wa.gov .
Canadian mining company Teck Cominco has filed paperwork with Washington state, three weeks after announcing that it intended to temporarily close its Pend Oreille zinc mining and milling operations near Metaline Falls, has made it official.
The company's notice says it intends to lay off 165 workers, effective Feb. 16.
"This layoff is permanent," reads the layoff notice, filed with the state Employment Security Department. (I have pasted a copy of the notice in the extended version of this post.)
The company announced Dec. 15 that "due to reduced metal demand and the persistent weakness in zinc prices" it would temporarily shut its Pend Oreille operations. The closure followed a recent decision to reduce zinc refining at its Trail site in British Columbia, the company said.
The company says that in February, its operation "will move to a care and maintenance status" to keep the mine compliant with environmental and other permits and "in prime condition to return to production when market conditions improve." The workers will get severance pay and other benefits, the company said.
Teck had re-started the mine in 2004. According to the company, it has produced 170,000 tons of zinc.
The notice was filed by Teck Washington, Inc., a wholly owned subsidiary of Teck Cominco Limited.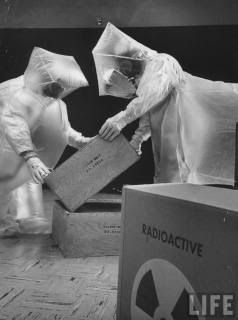 1954 Hanford photo by Nat Farbman from LIFE/Google archive.
Good news for Hanford downwinders' lawsuit.
Be sure to check out Karen Dorne Steele's feature on the U.S. supreme court rejecting an appeal by Hanford contractors. This recent action raises the hopes of a settlement for the
2,000 radiation exposed people after 18 years
, who claim different health problems, including thyroid cancer. She does an excellent job of providing the background on a complicated issue, a history that dates back to the Manhattan Project. Hanford was designed to build plutonium for the atomic bomb that was dropped on Nagasaki, August 9th, 1945. It was around this time the downwinders—-residents in eastern Washington and eastern Oregon—-were exposed to radioactive releases of iodine-131. This was top secret information until the U.S. Department of Energy declassified environmental monitoring reports in 1986.
More
.
Pend Oreille mine temporarily closes because of falling zinc prices.
Teck Cominco, the Vancouver, B.C, firm that owns the Pend Oreille mine in northeast Washington, announced 165 employees will lose their jobs in mid-February as zinc prices fell from
$1 per pound
to less than
50 cents
over the past six months. More.
More
.
After much overzealous speculation—-us included—-Obama has announced his energy and environment team.
Nobel-prize winning physicist Steven Chu will be energy secretary; Carol Browner, a confidante of former Vice President Al Gore, will lead a White House council on energy and climate; and Lisa Jackson, former head of New Jersey's environmental agency, will take over as the EPA administrator. "We can spark the dynamism of our economy through a long-term investment in renewable energy that will give life to new businesses and industries with good jobs that pay well and can't be outsourced," Obama said. "We'll make public buildings more efficient, modernize our electricity grid, and reduce greenhouse gas emissions, while protecting and preserving our natural resources. We must also recognize that the solution to global climate change must be global."
More
. Also, check this flickr slideshow of the announcements
here
.