Everything tagged
Latest from The Spokesman-Review
Matt Hasselbeck is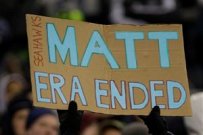 leaving the NFC West after 10 years of starting with the Seattle Seahawks, as he has agreed to a multi-year deal with the Tennesee Titans. He will be their starter this year and probably in 2012, but is expected to show rookie Jake Locker the ropes. With the announcement, the Arizona Cardinals lost one of their options at quarterback. With Hasselbeck leaving, teams in the NFC West should breathe a little easier. He has shown he can win in that division for a long time, and his experience and play were key in a playoff victory last season against the New Orleans Saints./Jeff Root, SB Nation. More here.
Question: Are you a long-suffering fan of the Seattle Seahawks?
LeGarrette Blount, shown here in this AP file photo scoring a touchdown for the Tennessee Titans, against Seattle in an exhibition game Saturday in Seattle, punched a teammate during practice Wednesday. The rookie running back capped off a feisty night practice with a short punch to the helmet of defensive end Eric Bakhtiari a few moments after having his own helmet ripped off for the second time in as many plays. As you recall, Blount was kicked off the Oregon Ducks team for several games last year when he punched Boise State's Byron Hout, a former Lake City High star, after the Broncos beat Oregon in the season opener for both teams. AP story here.

Question: Do hot heads ever grow up?
Seahawks quarterback Matt Hasselbeck has taken more than his share of hard hits this season. 
Final: Tennessee 17 Seattle 13
The season that can't end soon enough has skidded into the New Year, and all that's left to see in Seattle's regular-season finale today against Tennessee is the Seahawks' level of resolution.
"This is the last chance for this group to show how good we can be," defensive end Patrick Kerney said. "Every Sunday you're trying to show how good you can be. This is it for us, sad as it is. But I hope guys embrace that opportunity and put their best effort forward." More here.
I watched. It hurt.