Everything tagged
Latest from The Spokesman-Review
They call it III Citadel, and they say they've already lined up "hundreds" of extreme-right gun lovers to join them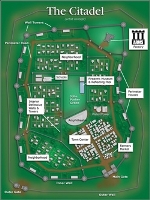 in the walled city they're planning for a lonely tract in northern Idaho. The end game, they say, is an ideologically pure settlement of 7,000 "Patriots" built around a huge arms factory. But there's no sign that the latest fantastic plans from antigovernment extremists will ever come to much. Dave Resser, the sheriff of sparsely populated Benewah County, calls the whole thing a "scam." They say they're not racists and welcome any and all comers, so long as they promise to follow the rules and they're devoted and well-armed defenders of the Constitution — "liberals, Marxists and blue voters" need not apply. But in practically the same breath, the man who with others recently purchased the land enthusiastically described how Latinos and Muslims will be "purged" and "culled" by "fed-up Americans" in the not-so distant future/Bill Morlin, Southern Poverty Law Center. More here.
Question: Do you worry re: another Aryan Nations compound relocating to North Idaho?
SURVIVAL — The Citadel, a 2,000 to 3,000-acre enclosed survivalist compound proposed for the St. Maries, Idaho, area is not really an outdoors story, other than in its potential to change the complexion of hunting and fishing in the St. Joe River region.
But it's an ugly sign of the times to which everyone should be acquainted.
See today's AP story by Nicholas K. Geranios.